Our Cordless Drill Reviews have been compiled by experts to provide you with all the information you need to select the best cordless drill for your needs. Whether you are looking for the standard 18 Volt cordless drill or something bigger, our review pages will help you find the right drill. The comparison chart lists the most important features and specifications like power output, maximum speed, weight and chuck size. These are all essential factors to consider. Use this buying guide to compare the top 10 cordless drills and to get a clear idea of which drill meet your requirements.
Best Cordless Drill Comparison Table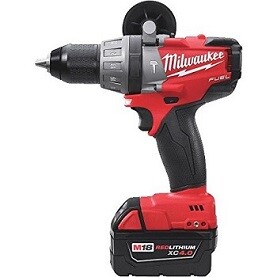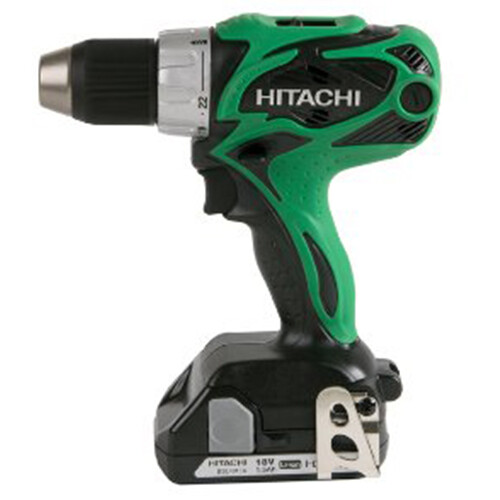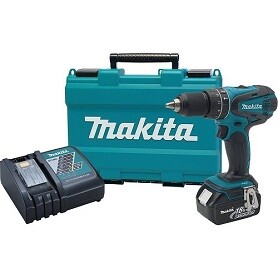 Excellent value for money

Here Are The Top Cordless Drills That We Reviewed:
A cordless drill is probably the most useful and essential power tool, and definitely one of the first tools any DIY enthusiast or professional should buy. Read the full article on this page to find out exactly what you need to know before buying. The cordless drill analysis on this page will make it easy to find the best battery operated drill for your money.

The Milwaukee M 18 Fuel is regarded by many as the best cordless drill on the market today. This is due to excellent build quality, superior power and long battery life.This drill is very popular with professionals looking for a tough drill that can work for extended periods of time. The M 18 Fuel features all the latest electronics and battery technology. This drill received excellent reviews from consumers. The higher price tag may put some buyers off, but it's definitely worth it in the long run. This drill is built to handle the toughest conditions.
---
The Makita XPH102 LXT is the best value for money cordless hammer drill available today. This new edidion from Makita is very popular with craftsman that require a drill that can handle the tough conditions of the the jobsite. The low price tag makes this drill a very good option for the DIYer looking for a top quality drill. This drill produces 480 in.lbs of torque, enough to tackle any job in the workshop or on the jobsite. The Makita received excellent reviews from consumers on all the feedback platforms that we researched. Makita is building a reputation as one of the best brands when it comes to reliability and tool life.
---
The Porter Cable is a compact drill that is suited for any job the DIYer may encounter at home. The PCCK600LB is a huge favorite with customers that bought it. A great feature in this drill is the battery gauge that allows you to monitor the charge while you work. This drill is under-rated by many, and doesnt feature in many cordless drill reviews, but has proved to be a very capable cordless drill at a very good price. The Porter Cable has all the features you would expect from a top cordless drill, making it an excellent buy for the DIYer. Received good reviews from consumers.
---
The Dewalt DC970K-2 is the No.1 best seller in its class. Compact and lightweight with a high output motor, this drill ticks all the boxes. This is yet another quality product from Dewalt. The DC970K-2 kit includes two 18Volt NiCad batteries. Although it is powered by Ni-cad batteries, this drill still remains one of the most popular drills for home owners and DIYers. The DC970K-2 is reliable well built and has enough power to meet all the demands of the DIYer. Even though this model is a bit long in the tooth, it still sells well in the U.S and Europe. This is mainly due to the lower price.
---
The Hitachi DS18DSAL was voted #1 best buy by a leading consumer publication and, when working with this drill, it is clear to see why. The DS18DSAL provides superior quality performance and packs a powerful punch. Great reviews received. We rated this as the best cordless drill for DIY. It was a close race between the Hitachi and the Makita XPH. We placed the Makita in the professional grade drills category and award the price for top drill for DIY to the Hitachi. This is one of the most under rated drills around at the moment, and certainly deserves this spot in our cordless drill reviews.
---
The Black & Decker LDX220 is suited for light duty DIY work around the home. The LED work light is a big plus when working in dark spaces. The best feature of the Black & Decker is the interchangeable battery system, making it possible to use the same battery on a variety of Black & Decker tools. Great when you have other B&D tools. We included the Black & Decker as it is very popular with home owners that want a cordless drill for occasional DIY work. This drill is priced lower than most of its competitors, making it very appealing for someone on a tight budget.
---
This Makita 18 Volt combo kit features two quality power tools that is designed for the serious DIYer or professional. We awarded this combo best value for money in our cordless drill reviews. The kit consists of a 1/2 inch drill/driver and a powerful impact driver. It often works out cheaper to buy a combo kit instead of two separate tools. This combo kit from Makita is excellent value for money, providing you with two quality tools for almost the same price as a cordless drill on its own. This combo kit received excellent reviews from consumers.
---
8. Milwaukee 2601-22 18 Volt
Although not featured in our main cordless drill reviews, the Milwaukee is a huge favorite with professionals and DIYers alike. Top build quality and superior performance are trademarks of this popular cordless drill. Milwaukee cordless drills are aimed at the professional and produce top quality tools that will stand up to tough conditions on the job site.
The Milwaukee 2601-22 is a cheaper alternative to the M18 Fuel. This drill is perfect for someone looking for a top brand cordless drill at a good price.
---
9. Dewalt DCD 970 KL 18 Volt Hammer Drill.
The Dewalt DCD 970 is one of the latest 18 Volt drills from Dewalt. This drill is powered by Lithium-Ion batteries, ensuring longer operating time and quicker charging. The DCD 970 produces 425 Unit Watts of power, making it one of the strongest drills in it's class. The hammer feature makes this drill a good choice for someone looking for a versatile cordless drill. The Dewalt DCD 970 is fast becoming one of the most popular 18 Volt cordless drills. This drill received very good reviews from consumers. The DCD970 is perfect for the professional or DIYer.
---
10.Bosch DDB 181-02 18 Volt
The Bosch DDB 181 provides excellent value for money. This top quality cordless drill is priced lower than most of its competitors, making it one of the best buys at the moment. The Bosch is also one of the most compact 18 volt drills, allowing you to work for longer with less fatigue. Two 18 Volt Lithium-Ion batteries are included in the kit. A favorite with many DIYers.
---
View the Cordless Drill Comparison Chart
The Best Cordless Drills Under $100.
1. Makita XPH102LXT 18Volt – Top quality and performance at an unbelievable price!
2. Dewalt DCD771C2 20 Volt – Dewalt reliability and ingenuity.
3. Black & Decker LDX 220 – Ideal for the DIYer or home owner.
4. Ryobi P1811 18 V One+ – Features the popular one-battery-fits-all system.
5. Porter Cable PCC606LA – 20 Volt cordless drill that received excellent reviews.
7. Hitachi DS18DGL 18 Volt – Superb build quality and reliability.
8. Kawasaki 840110 19.2 Volt – Another good drill for DIYers.
9. Milwaukee 2407-22 M12 – Excellent 12 Volt cordless drill for pro's and DIyers.
10. Pink Power PP182 – One for the ladies – It's all about the looks!
How To Find The Right Cordless drill For You
Choosing best cordless drill for your needs can be quite a daunting task with all the products on the market today. There are many factors to consider when shopping for a cordless drill. We have put together a few tips to help you with the process. Keep these tips in mind when reading our cordless drill reviews.
First, it is important to determine the types of projects you plan to use the drill for. If you are going to use it infrequently for light duty work, a smaller model may be what you want. If you know it will be used more frequently and for bigger projects, you would want to invest in a more robust and powerful cordless drill.
Power
The main indicator that determines a cordless drill's power is battery voltage. Although voltage alone will not indicate how good a drill is, it's a very important factor when choosing the right drill for you.
Lower power drills like the 12 to 14 volt models will be fine for light duties at home such as driving screws into dry walls or hanging picture frames. On the other hand the serious DIYer or professional that's going to tackle bigger jobs will need a more powerful drill.( 18 Volt+)
Another factor to look at is the "torque" the drill delivers. Torque is the measure of how much torsion or twisting force the drill can apply. The unit for measuring torque is inch-pounds or in/lbs. Usually, the higher the voltage, the higher the torque.

Chuck
Cordless drills come in different chuck sizes with the most common being 3/8" and ½ ", which refers to the largest drill bit shank the chuck can take. The ½" is the most popular chuck size and can handle from small to heavy duty work. The 3/8" chuck is more suited for light duty work around the house.
Another important factor is the grip of the chuck. A poor quality chuck won't grip the bit properly and cause wobbling and a lot of frustration.
You also need to consider the changing of bits process. We recommend a drill with a keyless chuck, which makes changing the bits much faster and easier.
Speed
Drill speed is measured in RPM or revolutions per minute. Most cordless drills today are designed to work as a drill and a driver by offering two speed settings. A low speed setting(300-400rpm) is for driving screws and high speed setting(1,200-1,600rpm) for drilling. A speed selection switch allows you to switch back and forth. The maximum speed will determine how efficient the tool is in drilling holes. The serious DIYer should look for a drill with a high maximum speed with multiple speed settings to allow him to match the speed to the type of work undertaken.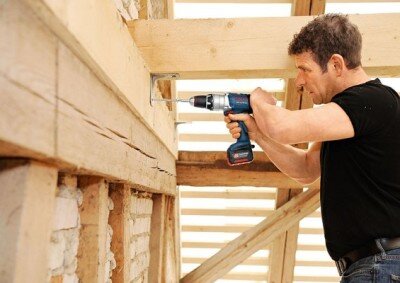 Weight
Most bigger brands today are focusing on building more compact and lighter drills. This allows the user to work longer periods of time with less fatigue . This means the job gets done in less time. Manufacturers are spending more time on improving the ergonomics of their tools. Newer drills fit better in your hand and that makes it more comfortable and easier to use.
Battery
The type of battery a drill uses plays a key part in the price of the drill. Drills that use the new-tech Lithium-ion batteries usually cost more than the models using Nickel-Cadmium batteries. Most new models use Lithium-ion batteries which offer more power, last longer and are lighter than Nickel-Cadmium batteries.
You also want to consider the amp-hours(ah) rating of the battery. This indicates how long your battery will last.
If you are going to use the drill for long periods of time you might want to look at one of the models that come with two batteries in the kit. This is very useful and allows you to work with one battery while the other is on charge.
Charger
There are basically three types of chargers available on the market today. The normal charger takes a few hours to fully charge a battery. Rapid chargers do the job much quicker and can fully charge a battery in 15 minutes. Smart chargers have an indicator to show you how far along the charging process is and will turn itself off when fully charged.
Other extras to consider
Built-in LED light: Some drills have a built-in LED to illuminate the work area. This comes in handy when you work in dark corners or inside cupboards.
Battery charge indicator: Some models have what they call a fuel gauge that shows you how much charge is left and when it's time to recharge.
Built-in level, auxiliary handle and belt clip are all extras that might come in handy.
Different Types Of Cordless Drills:
Standard Cordless Drill:
The standard entry level cordless drill features a one-speed drilling function. The speed can be controlled through the variable speed trigger. Most standard cordless drills feature variable torque settings to allow you matching the torque applied to the task at hand. This type of cordless drill is suited for the average home owner or weekend DIYer.
Cordless Drill/Driver: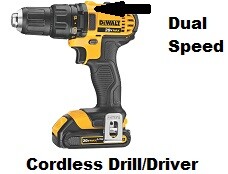 The cordless drill/driver is basically a standard cordless drill with a two-speed gearbox. A drill/driver features a high speed setting for drilling and a low speed setting for driving screws and fastening or loosening applications. The versatility of this type of drill makes it ideal for use in the workshop or for the serious DIYer that needs a bit more from a cordless drill. A speed selection switch allow you to switch instantly between the high speed setting and the low speed setting.
Cordless Hammer Drill: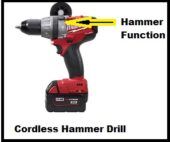 A cordless hammer drill features a hammer function for masonry drilling. This type of drill can perform both normal drilling and hammer drilling for masonry applications. It is essential to purchase a hammer drill if you are planning on doing masonry drilling. The versatility of this drill makes it ideal for contractors and other professionals. Most serious DIYers prefer the cordless hammer drill as this allow them to take on any kind of drilling.
How Other Review Sites Rate The Top Cordless Drills:
Toolguyd.com: The guys at toolguyd rated the Milwaukee M 18 Fuel as the best cordless drill in the 18 Volt class. The M 18 Fuel made our top spot as well. This drill out performed all other brands on various comparison tests. The quality, performance and durability makes up for the higher price tag. Toolguyd awarded best budget buy to the Bosch DDB181. This drill made our top 10 cordless drill reviews, and we certainly agree that it provides excellent value for money.
BestReviews.com: Best reviews rated the Hitachi DS18 DSAL as the top cordless drill for 2015. The build quality and performance makes this drill one of the best buys at the moment. Best reviews awarded the best value drill prize to the Dewalt DC 970K-2. This drill has been the best selling cordless drill for the past couple of years. The recent reduction in price makes this drill excellent value for money.
ToptenReviews.com: The Makita LXF D03 was their top pick. We didn't review this drill so can't really comment here. We chose to review the Makita LCT 200w combo kit that includes a cordless drill and an impact driver. Makita is fast becoming one of the very best cordless drill producers. The Makita LCT 200W is an excellent value for money combo kit that features two top quality power tools.
Buying tips for selecting a suitable drill:
Choose a brand that you know and trust. The bigger, well known brands spend loads of money on research and development and therefore produce better quality tools. The trusted brands pay attention to quality control, ensuring that all tools leaving the production line are up to standard. The bigger brands offer good warranties to back their products, this is crucial when your power tool fails.
To sum up the buying tips – the best cordless drill is not always the most expensive drill and the best value for money drill is not always the cheapest. Have a clear idea of what for and how you will use your new cordless drill, set a budget and then read through our cordless drill reviews keeping in mind what features you need in the product. Use our cordless drill comparison chart to compare the specifications of the different models. When buying power tools, always make sure that you get a warranty with the tool. There is nothing more frustrating than having a power tool failing on you after a month of use and no warranty to fall back on. That is why we recommend you stick to the known and trusted brands.
If you take all these tips into consideration you will surely find the best drill for your specific needs. Hope you find our cordless drill reviews page helpful.
Here is a video on cordless drill basics from the guys at Skil.
So What Is The Best Cordless Drill For The Money?
The best cordless drill for you is not necessary the most expensive one. There are lots of factors to consider when choosing a cordless drill. If you are not a professional, there is no need to buy the most expensive cordless drill on the market. The professional grade drills are often bigger and heavier than the models that are designed for the DIYer. Make sure that the drill you buy is not to heavy for you as this will result in fatigue and an unpleasant working experience. We list the weight of each drill in our reviews to make it easy for you to compare the different options.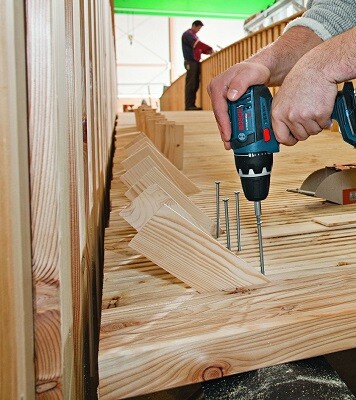 Choose a drill that has the features that you require in a cordless drill. If you need it for drilling mainly, pick a drill with a high speed rating. The higher the speed rating, the better the drill is at drilling holes. If your priority is driving screws, choose a cordless drill with a high torque rating and multiple torque settings. If you find that a cordless drill doesn't provide enough power or torque for your intended use, a corded drill or drill press may be a better option. A drill press is a stationary tool, but produce loads of power and torque for tougher drilling applications. This is also the best tool to use for precise, repetitive drilling. We sure hope that our cordless drill reviews help you in the search for the best cordless drill.
Sources
Amazon.com/Reviews
Consumer feedback forums
www.dewalt.com
www.blackanddecker.com
www.hitachi.com
www.boschtools.com
Back to Home Page