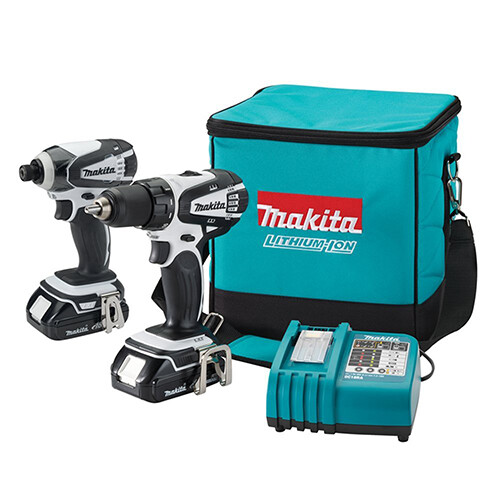 See Price List At Bottom Of Page
The Makita 18 Volt 2 piece combo kit is designed for the professional or serious DIYer that requires top quality tools to get the job done. The LCT200W kit includes an ½ inch drill/driver(LXFD01CW) and a powerful impact driver (LXDT04CW) that weighs only 2.8 pounds. Both of these are best-in-class tools. The drill/driver deliver an impressive 480 in/lbs of torque and has an all metal two speed gearbox.(0-400rpm/ 0-1500rpm) A Makita-built four-pole high torque motor is used in this drill. The light and powerful impact driver deliver 1,280 in/lbs of torque, 2,300 rpm and 3,200 impacts per minute for a wide range of fastening tasks. Both tools are compact and ergonomically designed and fit perfectly in the hand. An LED work light illuminates the work area. The kit comes with two 18 Volt Lithium-ion batteries, rapid optimum charger and contractor bag.
Click Here to get free shipping and up to 58% off at Amazon.
Product Features and Specifications
LXFD01CW Drill/Driver
Weight: 3.5 pounds
Max Torque: 480in/lbs
Max Speed: 1500rpm (dual speed)
LED work light
Heavy Duty
LXDT04CW Impact Driver
Weight: 2.8 pounds
Max Torque; 1,280in/lbs
Max Speed: 2,300rpm
Impacts/min: 3,200
LED work light
Heavy Duty
Three year warranty on both tools and one year warranty on batteries and charger.
The Reviews
This quality kit from Makita has received excellent reviews from customers. From over three hundred reviews on Amazon it received an average of 4.6 out of a possible 5 stars. This is top notch tools and great value for money according to most customers. Users like the build quality, power and rapid charging.
A contractor of thirty years says: "This is the best battery powered drill kit I've ever owned"  A large amount of  customers say that the performance of these tools are second to none.
Verdict: Excellent quality, performance and value. A big thumbs up!
Back to  Cordless Drill Reviews