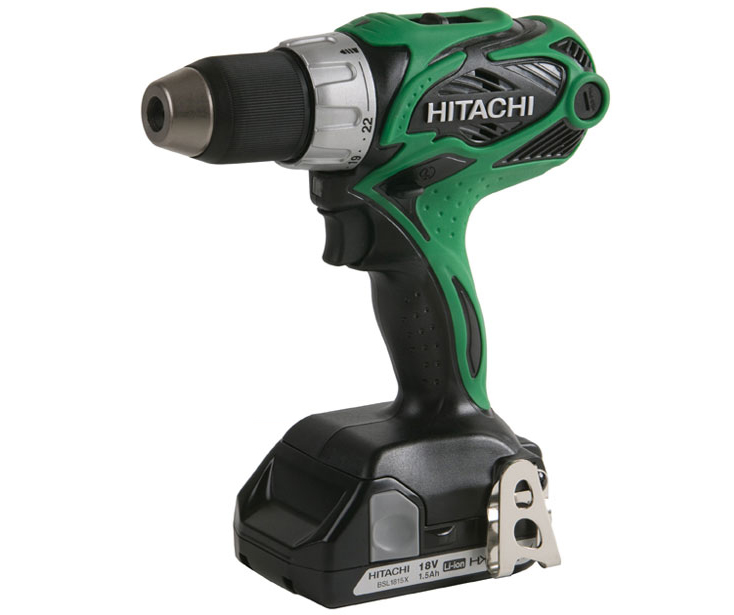 See Price List At Bottom Of Page
The DS18DSAL is the first in Hitachi's compact pro series of compact tools. At 7.7 inches in length and 3.5 pounds in weight it is easy to handle for long periods of time. This drill has been rated #1 best buy for general use drills and drivers by a leading consumer publication. With 460 inch/lbs. of torque this drill can take on any heavy duty drilling.
Hitachi's pro series delivers excellent performance and quality in a compact tool. The DS18DSAL features a variable speed trigger that can be set from zero to 350rpm or zero to 1500rpm. It comes with a convenient belt hook and LED job light to illuminate your work area. This drill is powered by a long-lasting  1.5 ah lithium ion slide battery. The kit comes with a flashlight, battery charger, Phillips driver bit and carry case.
Click Here to get free shipping and up to 54% off at Amazon.
Product features and specifications
Weight: 3.5 pounds
Length: 7.7 inches
Torque: 460 in./lbs.
Max Speed: 1500rpm
Variable speed trigger
½ inch ratcheting chuck
Quick charging Li-ion batteries
2 Batteries included
Covered by Hitachi's lifetime limited tool warranty
The Reviews
The Hitachi DS18DSAL has been rated #1 best buy in general use drills and the customer reviews reflect just that. On Amazon alone we found two hundred and nine customer reviews with an average of 4.4 stars out of a possible 5 stars. Very good!
Most customers like the compact and unique design and  say that it fits comfortably in your hand. " Very easy to use" seem to be a common phrase in the reviews. Customers agree that this is a powerful drill with good battery life.
One customer reported that he would not swap this drill for any of the nine other drills that he tried out in the same class as this out performs them all. " It's a powerhouse with more torque(460in./lbs) than any other drill in this category"
There have been the odd report of battery failure but this seem to be a small minority and will be covered by Hitachi's battery warranty.
Verdict
One of the best drills in this category. Packs a powerful punch and is backed by Hitachi's excellent warranty. This drill is on our list of best cordless drills under $100. You can see the full list on our main reviews page.