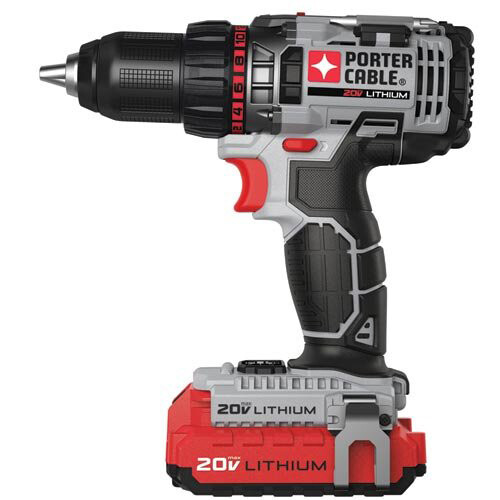 See Price List At Bottom Of Page
The Porter Cable PCCK600LB is a compact drill that is suited for any job the DIYer may encounter at home. It uses the latest Lithium-ion technology to provide a quick charging, long lasting battery. The drill's incorporated battery gauge is a great feature and allows the user to monitor the charge level. Although it's not the most powerful in its class, it has enough power for wood and metal drilling and fastening applications.
This drill has a ½ inch metal ratcheting chuck for improved bit retention. The PCCK600LB features a two speed gearbox(0-400/0-1600rpm) to deliver speed and power. A built in LED light improves visibility while rubber bumpers on both sides protect it from wear and tear.
Click Here to get free shipping and up to 44% off at Amazon.
Product Features and Specifications
Weight: 3.5 pounds
Length: 7 ¾ inches
Power: 330 Unit Watts
Max Speed 1600rpm
Two speed gearbox
Two 1.5ah Lithium-ion batteries included
½ inch metal ratcheting chuck
Ergonomic design
3 Year warranty
The Reviews
The Porter Cable PCCK600LB received outstanding reviews from customers that bought the product. The customers on Amazon rated this drill at an average of 4.7 out of a possible 5 stars. This is one of the highest average ratings we have ever come across. This clearly shows huge customer satisfaction.
Our research shows that customers find this drill powerful, light and extremely good value. The battery life and charging time is mentioned as being excellent and the battery charge indicator a huge plus.
Other features like the rubber bumpers and LED work light impressed a lot of users. One customer said that he was amazed at how long it runs and how powerful it is. " Highly recommended to anyone in search of a good drill for around the house or even contract work"
Verdict
Has all the features and a  huge favorite with the customers that bought it. This is one of the most underrated drills around at the moment. The value for money that the Porter cable provide is hard to beat. You can find more reviews on all the top models on our cordless drill reviews page.