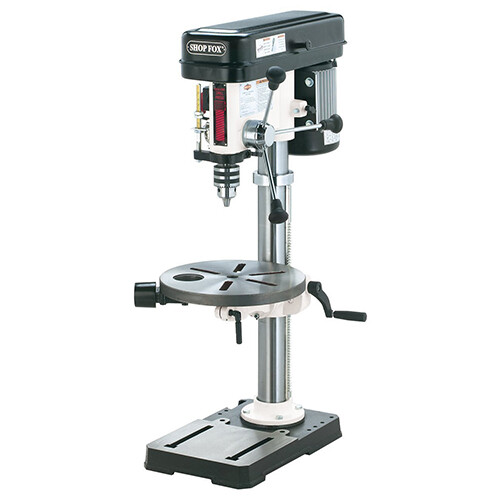 See Price List At Bottom Of Page
The Shop Fox W1668 is an easy to operate drill press with plenty of power being supplied by the ¾ hp motor. This drill will handle any light to heavy duty drilling. A great added feature is that the W1668 converts into a sander for multiple sanding applications. The ability to tilt the work table 45 degrees to the left or right is very handy and allow you to work at almost any angle.
The W1668 can be converted from drilling operations to an oscillating  sander in a matter of seconds without the use of tools. This drill press includes a 3-piece spindle sander drum kit with a mandrel and 80 grit sanding paper to fit the 1-inch, 1 ½ -inch and 2-inch drums.
Click Here to get free shipping and lowest price from Amazon.
Product Features and Specifications
Height: 38 inches
Motor: 3.4hp
Weight: 122.4 pounds
Dimensions: 23x14x38inches
12 Speed settings (250-3050rpm)
Drill Chuck: 5/8 inch
Oscillating spindle for sanding
Work table can swing 360 degrees
Work table dust port
The Reviews
The Shop Fox W1668 received mixed reviews from buyers. On Amazon it has an average rating of 3.8 out of a possible 5 stars. A lot of customers said that it was easy to use with a lot of power. Users also noted that changing the speed was quite easy. One customer said: " Better than expected, works like a dream"
Some customers weren't as happy with the W1668 and found the manual inadequate and out dated which made the assembly process a nightmare. The finish on the product wasn't to the satisfaction of buyers. There are quite a few reports of shipping problems and damaged parts on arrival. The weight of this drill press was a downer for some users.
The Verdict
Quite a few niggles reported by customers that bought the W1668, mostly shipping or cosmetic. If you are looking form the best drill press for woodworking at a reasonable price, the shop fox will have to be on your short list.