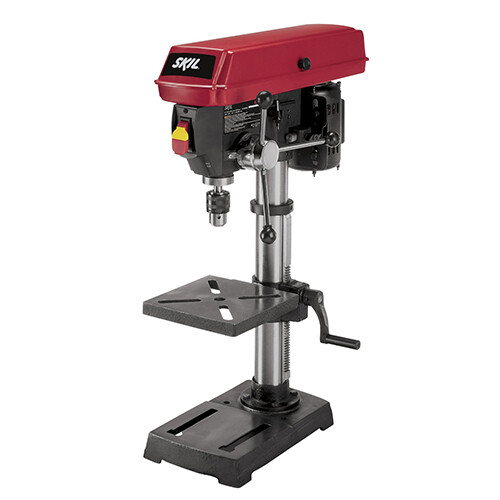 See Price List At Bottom Of Page
Although the Skil 3320-01 is an entry level drill press, it is functional and precise in the areas it needs to be. This drill is suited for the home workshop and performs most tasks with ease. The build quality is good and the machine runs smooth and quietly. The Skil features a laser guiding system for precise drilling and it actually works!
The drill features a 3.2 amp motor and has a ½ inch  chuck. The speed of the Skil can be set to five different settings for different materials. An adjustable depth stop makes accurate and repetitive drilling easy. The work surface is adjustable and can tilt to an angle of 45 degrees.
Click Here to get free shipping and up to 39% off at Amazon.
Product Features and Specifications
Weight: 49.3 pounds
Dimensions: 21.7x15x9.8 inches
Motor: 3.2 amps
Chuck: ½ inch keyed
2 Beam laser for precise hole alignment
Depth adjustment system
5 Gear variable speed
Bump-off switch for added safety
Easy assembly
The Reviews
When we researched the reviews on the Skil 3320-01, we found that most customers said that this machine is much better than what they expected. Amazon customers rated it 4.2 stars out of a possible 5 stars.
Users of this drill rated it as very good value for money. Customers commented on the good build quality, quiet motor and smooth operation.
One happy customer said: " I bought this for a small project not expecting much for the price. Boy was I surprised. This is one quality tool." Another user said that they tested other drill presses in the same price range, but nothing compared to the Skil.
The Verdict
Ideal for medium-duty work. Excellent value for money. This drill press continues to be one of the best selling bench top drill presses due to the good value for money and consumer satisfaction. We can confidently recommend this drill press to anyone looking for a cheap, but reliable drill press. Visit our main reviews page to find more drill press reviews.