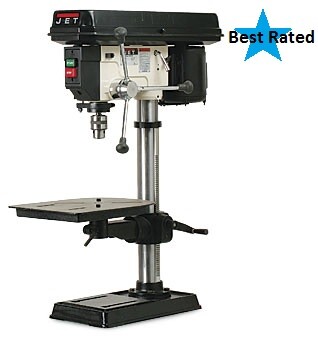 See Price List At Bottom Of Page
The JET 354165 is one of the best bench-top drill presses on the market today. This drill press has a powerful 3/4HP motor with 16 speed settings(200-3630rpm) that allow you to find the right speed for the specific work you are doing.
The large work table ( 10"X13") make this drill press suitable to tackle heavy duty work. The work table is crank operated and can tilt 45 degrees to either side. The depth stop displays in both inches and millimetres and has a quick set bolt for fast accurate adjustments.
This drill press features a 5/8- inch keyed chuck that allows it to take bigger drill bits. A built in work light is a great added feature. What really sets the Jet354165 apart from the competition is its versatility. The 16 speed settings allow you to use it for non-drilling chores such as sanding, mortising, shaping, routing, plating and other practical jobs. This drill press is a powerhouse packed full of features.
Click Here to get free shipping and lowest price from Amazon.
Product Features and Specifications
Dimensions: 31X13X40inches
Weight: 150 pounds
Motor: 3/4Hp 115/230 Volt
Speed: 16 speed (200-3,630rpm)
Chuck: 5/8-inch
Work Table: 10X13inches
Quick- release, crank-operated work table adjustment
Built-in work light
15inch swing
Versatile and powerful
The Reviews
When we researched the reviews on the JET354165 JDP-15M we found a lot of satisfied customers. On Amazon this drill press received an average rating of 4.3 stars out of a possible 5 stars. This is one of the highest average ratings in the drill press category.
Most users love the power of this drill press which makes it possible to tackle heavy duty work. The 16 speed settings allow customers to control the power and select the exact speed they want.
A lot of customers said that the versatility and quality of this drill press makes it very good value for money. " Great capacity and power. Easily drills ¾" in steel. Range of speed is better than most- it's nice to be able to really fine tune the RPM for each application" one customer said.
Verdict
Good quality drill press. Best in class. The Jet 716200 has been released recently, and is the new version of the 35416. Find more bench top drill press reviews on our main reviews page.