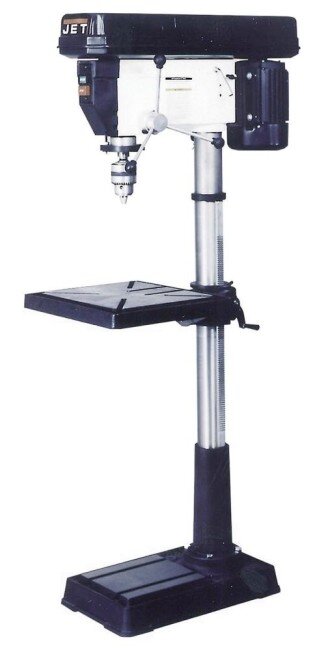 The 354170/JDP-20 MF is a top quality powerhouse from the JET factory. This 20 Inch drill press features a 1.5Hp motor that has enough power to tackle any heavy-duty job. It has 12 spindle speed settings that range from 150RPM to 4200Rpm, allowing you to find the exact speed for the application you are using it for. The JET 354170 is fitted with a work lamp to light up the working area while the laser guiding system provides a crosspoint on the workpiece for superior accuracy.
The table size is an impressive 18.5 inches by 16 inches, making it much easier to tackle bigger jobs. The work table has an 80Lbs weight capacity. The Jet has a drilling capacity of 1-inch in cast iron and ¾-inch in mild steel and features a ¾-inch chuck.
This drill press has great versatility and can be used for a wide range of different applications. JET is a company that keeps producing quality products with impressive backup. This model carries a two year warranty.
See On Amazon to get free shipping and up to 14% off.
Product Features and Specifications:
Dimensions: 33 x 19 x 67 inches

Weight : 284 Lbs

Motor : 1.5 Hp 115/230 Volt

Speed : 12 speed settings (150RPM-4200RPM)

Chuck : ¾ inch

Work Table : 18.5 x 16 inches

Quill : 2.44 inch diameter; 4.6 inch diameter

Rotating, 45-degree tilting, crank-operated worktable

Two year limited warranty
The Reviews
The JET 354170/JDP received outstanding reviews on all the consumer review platforms that we researched. Reports show that customers that bought this drill press are extremely happy with their purchase. Amazon customers rated the JET at an average of 4.7 stars out of a possible 5 stars. This is very impressive, and the highest rating we have ever seen in the drill press category.
Almost all consumer reports mention the excellent power of this drill press, with most saying that it exceeds expectations. Consumers note that the build quality is tops and durability superior to anything else.
Here are some consumer feedback comments:
"Bought this drill press for my business shop. Jet is known for their commercial products and this only upholds their standard. It is the best drill press that I've ever owned."
"Outstanding shop drill, easy to set up and has all the features needed to satisfy our needs. I recommend this and would buy it again if needed."
The Verdict:
Top quality drill press with plenty of power! A very good but for the workshop. If you have the room for a floor drill press in your garage or workshop, this drill press is an excellent choice.