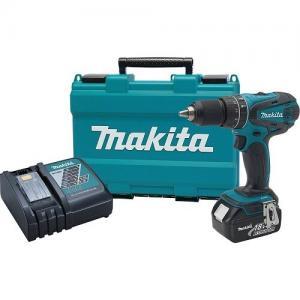 The Makita 18 Volt LXT is definitely the best value for money cordless hammer drill at the moment. Makita is known for producing quality products, and the LXT certainly rates as a top quality product. Makita cordless drills have become a huge favorite with professional craftsman due to the power and reliability of their products.
The LXT features a Makita-built four pole motor that delivers 480 in.lbs of torque, certainly strong enough to tackle any job on the jobsite. This cordless drill is aimed at the professional, but the low price tag makes it well in reach of the DIYer and home owner.
This drill is powered by an 18 Volt Lithium-Ion, slide-style battery that has the fastest charge time in this category. That means more work and less charging time. We recommend this cordless drill for DIYers looking for a tough, reliable drill at a good price and for professionals that want a drill that can handle the harsh conditions of the jobsite.
Product Features and Specifications:
Voltage: 18 Volt Lithium-Ion
Weight: 4.0 lbs
Power: 480 in.lbs
Max Speed: 1500 rpm
Length: 8-1/8 inches
Chuck: 1/2 inch metal chuck
Two speed all metal transmission
Dual speed hammer function
LED work light
3 Year warranty on tool
1 Year warranty on battery
The Reviews:
The Makita XPH012 LXT recieved excellent reviews from consumers on all the feedback platforms we researched. This drill is fast becoming one of the favorite cordless drills on the jobsite and in the home workshop. Customers on Amazon rated the Makita 4.6 stars out of a possible 5 stars. This is one of the highest ratings in the cordless drill category. Proof that this drill delivers on its promises.
Most consumers are amazed by the quality and reliability of this product. Here are some of the comments of customers that bought the Makita LXT:
"Got this drill from my lovely wife for Christmas. Man, it's the best drill I've ever used."
"This drill has everything you want in a cordless drill- quick charge, lots of power and top quality."
"Great value, you will absolutely love this drill!"
There are hundreds of comments and reviews like this, showing that consumers rate this cordless drill very high. Consumer feedback is an important factor to determine how a product performs over a period of time.
The Verdict:
The Makita XPH012 18 Volt LXT is a top quality cordless drill at a very good price. We recommend this drill for professionals and DIYers. One of the top drills on the market today. Visit our main reviews page to find the best cordless drill for your needs, or to get more information about all the top models.