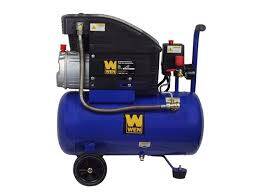 The WEN 2276 air compressor is a great compressor for the home workshop. It has enough power to drive most air tools that the DIYer uses at home. Considering the low price the WEN is selling at, the build quality is surprisingly good. The gauges, switches and valves all work properly and makes this unit very easy to use. Weighing in at just 50lbs, it is one of the lighter compressors in its class and thus very portable. The fitted wheels make it easy to move around the home.
This compressor is electric powered and plugs in to a normal 120 Volt outlet. The motor delivers 2Hp and produces an air flow capacity of 4.2 SCFM. This is ample for the home garage. The WEN2276 is oil lubricated and comes with a bottle of oil.
The 2276 produces a noise level of 63db, and is definitely suitable for indoor use. The price of the WEN is a big plus point, and makes it one of the cheapest 6-gallon air compressors on the market. This compressor is a prefect match for the DIYer looking for a cheap but well built compressor that will run all his tools.
Click Here to get free shipping and up to 22% off from Amazon.
Product Features And Specifications:
Weight: 50lbs

Power: 2HP

Max Pressure: 125psi

Tank Size: 6.0 Gallon

Air Flow Capacity: 4.2 SCFM

Noise Level: 63db

Electric Powered

Oil Lubricated

Voltage: 120 Volt

1 Year Warranty
The Reviews:
The WEN 2276 received excellent reviews from consumers that bought this product. Customers on Amazon rated this compressor at an average of 4.7 stars out of a possible 5 stars. A very high average indeed. This shows a lot of happy customers.
When researching the reviews on the WEN, the main advantage that customers mention is the value for money. Most consumers feel that this compressor is a bargain and is of better quality than what the selling price suggests.
Some consumers feel that it runs a bit louder than the 63db the manufacturer listed. The real noise level is close to the 80db mark but still suitable for indoor use. An important tip from the consumer reviews is to make sure you purchase the accessories as well. The WEN doesn't come with any accessories.
Overall consumers are very happy with this product and this explains the good rating it received. Value for money and ease of use are two advantages that are mentioned a lot by the consumer.
The Verdict:
A good compressor at a good price. Perfect for the home garage. Is a bit noisier than what the manufacturer suggests. See all the latest reviews on our air compressor reviews page. This will help you find the best tool for your needs.