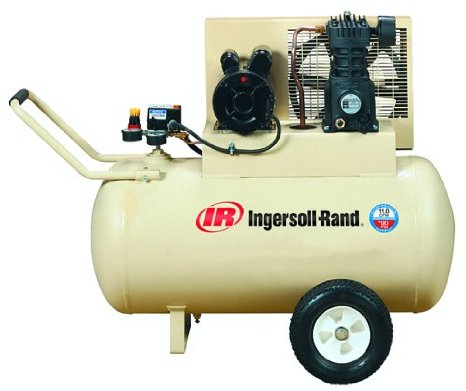 The Ingersoll-Rand SS3F2 is built for the serious DIYer or professional looking for a compressor that will meet all their demands. This compressor has a 100% duty cycle, ensuring an uninterrupted working experience. This heavy duty air compressor produces enough air to run most air tools. The SS3F2 is ideal for the home, workshop or jobsite.
This compressor is powered by a 2Hp electric motor that runs smooth and quiet. The pump is oil lubricated and made from cast iron for durability. The pump is belt driven. The SS3F2 is one of the most powerful and biggest compressors on the market that uses standard 120Volt.
The air flow capacity of the Ingersoll-Rand is an impressive 5.2 SCFM at 90psi. This will run almost any tool you will come across. At 185lbs it is not the lightest but the fitted wheels make it easy to push around. When running the garage mate produces a noise level of 75-80db. This is quite acceptable for indoor use. The 30 Gallon tank stores tons of air, providing longer work time before the pump has to start up again.
Click Here to get free shipping and up to 22% off from Amazon.
Product Features And Specifications:
Weight: 185lbs

Power: 2Hp

Max Pressure: 135psi

Tank Size: 30 Gallon

Air Flow Capacity: 5.2 SCFM

Noise level: 75-80db

Electric powered

Oil lubricated pump

Voltage: 120Volt

1 Year warranty
The Reviews:
The Ingersoll-Rand received excellent reviews on all the consumer platforms that we researched. Most consumers found this compressor to be powerful and reliable. On Amazon customers that bought this product rated it at an average of 4.3 stars out of a possible 5 stars.
Consumers found this compressor to be surprisingly quiet and, once the 30 Gallon tank has filled, there was a good length of time before motor start-up was needed again. A lot of users that use this unit for bigger applications said the 100% duty cycle was a huge plus point.
Some consumer comments:
"I picked this compressor because it was the most powerful and largest I could find without going to 220Volt. It runs very quiet and will take only a few minutes to fill the tank."
"This is a great compressor. Quiet, pumps up fast and has enough air to handle all I need as a home owner/hobbyist."
Overall consumers are very happy with purchasing this air compressor. A good tip that we found in the reviews was that this unit doesn't come with the oil and filter included, so make sure you buy the start up kit as well.
Verdict:
A good quality air compressor from Ingersoll-Rand. Will meet all the demands of any DIYer.