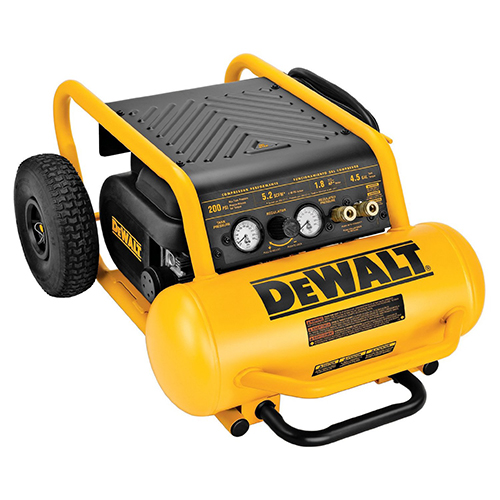 The Dewalt D55146 is a powerhouse in a compact package. This air compressor is a favourite with DIYers and contractors alike. This heavy duty compressor produces enough air to power most air tools. The dual outlet connectors let you run two nailers simultaneously and the compressor won't struggle to keep up. Being able to run two air tools at the same time is a huge bonus and can cut working time in half.
The D55146 features Dewalt's High Efficiency motor and oil-free pump which ensures durability and maintenance free operation. The build quality is very good and all components work properly. Weighing in at 83lbs, it is a bit heavier than the average compressor in this class, but is still very portable and the fitted wheels make it easy to pull around.
This compressor is definitely built to handle tough jobsite conditions and the lower noise level of 78db makes it suitable for indoor use. The Dewalt produces a maximum of 200psi and produces much more air than the industry leader. The air flow capacity is rated at an excellent 5.2 SCFM. This allows you to tackle almost any job with this compressor.
Click Here to get free shipping and up to 52% off from Amazon.
Product Features And Specifications:
Weight: 83lbs

Power: 1.8Hp

Max Pressure: 200psi

Tank Size: 4.5 Gallon

Air Flow Capacity: 5.2 SCFM

Noise level: 78db

Electric powered

Oil free pump design

Voltage 120Volt

1 Year Warranty
The Reviews:
The Dewalt D55146 received good reviews from consumers that bought this product. The vast majority of customers are very happy with their purchase. On Amazon customers rated this compressor at an average of 4.1 stars out of a possible 5 stars. This compressor impressed most customers that bought it and this explains the good reviews it received on various consumer discussion forums.
Most users were more than happy with the amount of air supplied and the refill speed of this compressor. Some reports suggest that running three air tools simultaneously are no problem for this machine.
When we researched reviews on the build quality of this unit, it was clear that this compressor is solidly built and made to withstand the toughest working conditions. The air flow capacity (5.2SCFM) is very impressive and all users found that it meets all their demands. Consumers reported that the noise level was low enough to be used indoors. One consumer noted: "Surprisingly quiet and well built"
Another consumer said the following: "A must have for contractors. It's much bigger than what I thought it would be, but still light enough to pick up and carry around. Provides a ton of air. It's not loud as far as compressors go. I love it!"
The reviews suggest that consumers are happy with the amount of air supplied by this compressor, satisfied with the quality and happy with the portability of this unit.
The Verdict:
Another quality product from Dewalt. Produces loads of air at good speed. Will meet the demands of DIYers and contractors. Great product. Read our air compressor reviews for more information on air compressors.