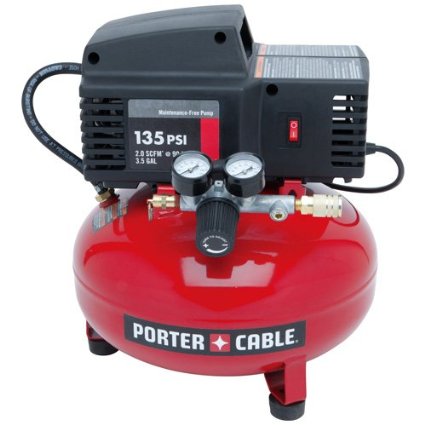 The Porter Cable PCFP02003 is a great compact air compressor. It is the best seller in the pancake compressor class, and with good reason. An impressive 135 psi maximum pressure allows for longer run times and quicker recovery. Good build quality and durability are two of the main advantages of this compressor.
The PCFP02003 is small and very portable. Weighing in at just 26lbs, this compressor can be moved around easily by anyone and will store in the smallest spaces. This is ideal when you work on a site that requires you to move the compressor around. The factory fitted quick coupler is great when moving around and allows you to snap-off and snap-on any air tools that you are using.
This compressor excellently provides power to nailers and smaller SCFM air tools. The PCFP02003 is electric powered and features an oil free pump that requires no maintenance. This is a huge plus point in the long run. When running, the motor produces a noise level of 82db. This is average for a motor of this size, certainly suitable for indoor use. Cold weather start-up seems to be no problem for this compressor.
Click Here to get free shipping and up to 58% off from Amazon.
Product Features And Specifications:
W

eight: 26lbs

Power: 10 Amp

Max Pressure: 135psi

Tank size: 3.5 Gallon

Air flow capacity: 2.0 SCFM

Noise level: 82db

Electric powered

Oil-free pump design

Voltage: 120V

Warranty: 1 year limited warranty
The Reviews:
When researching consumers reviews on the Porter Cable it becomes clear why it's the best seller in portable compressors. Consumers that bought this product rate it very high and are on average very pleased with purchasing this product. Customers on Amazon rated this compressor at an average of 4.6 stars out of a possible 5 stars. Very impressive!
Consumers like the fact that it is very light and can be carried around easily. The fact that it runs quiet enough to be used indoors is a big plus for a lot of users. The excellent build quality and durability impressed the consumers, some have been using this compressor for a few years.
One user said: "I bought this one three years ago with a set of pneumatic nailers, and this compressor is a real workhorse. I did all the house trim, the deck and even redid all of my daughter's house from scratch. This compressor is the best I've ever own for woodwork, tire inflation and smaller power tools."
The reviews on the Porter cable PCFP02003 tell a story of many happy customers. From DIY enthusiasts to contractors, all rate this compressor highly for general inflating and powering smaller air tools.
The Verdict:
A great little compressor at a great price. Perfect for smaller air tools and very portable. On our main reviews page we have more reviews to help you find the best portable air compressor.