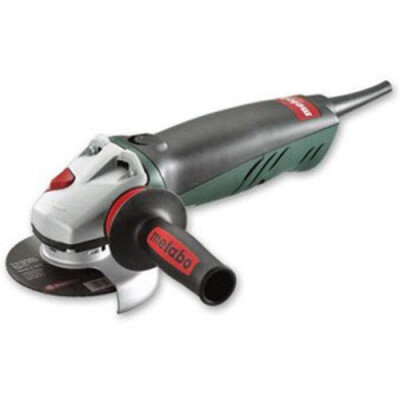 See Price List At Bottom Of Page
Metabo have been producing top class grinders for a long time and are known for their superior quality and long lifespan. The W8-115 is no different. The design of this grinder is completely new and even more ergonomic.
The Metabo W8-115 is a 4.5 inch grinder with an 8amp motor that can produce 19.5inch/pounds of torque. Very impressive for such a small device! With  a maximum speed of 10,000rpm, this grinder will tackle any grinding, cutting and sharpening with ease. A great feature is a disc brake system that allows the unit to stop quickly when the grinder is switched off. The on/off switch is a big improvement from the previous model and makes it much easier to switch on and off while handling the grinder.
This model uses Metabo's  Vibra-Tech technology in the handle, which reduces the vibration during use.
Click Here to get free shipping and up to 45% off at Amazon.
Product Features and Specifications
Weight: 5.9 pounds
Motor: 8amp, 120 Volt
Speed: Max 10,000rpm
Automatic torque limiting clutch
New improved ergonomics
Dual position side handle
Toolless guard adjustment
Disc brake system for quick stopping
3 Year warranty
The Reviews
The Metabo W8-115 angle grinder received excellent reviews from the customers that bought it. For a lot of users the quality was just superior to anything else. This grinder received an average rating of 4.6 stars out of a possible 5 stars from Amazon customers.
Users love the versatility of the Metabo and found it performing very well in a wide range of applications. A lot of customers complimented this grinder for its power and ease of use. The new design seem to have found a huge following.
Customers prefer the new sliding on/off switch to the old one, saying it's a big improvement. One user said: "I've used other makes of grinders for many years and I thought they were pretty darn good, but if you need or want a more powerful, better balanced, reasonably priced tool, this is the grinder to buy."
Verdict
Versatile and powerful. Top class product.
Back to  Angle Grinder Reviews