Our Best Angle Grinder Reviews And Comparisons – 2017
Our angle grinder reviews have been compiled by experts to help you find the best angle grinder for your needs. Product performance and consumer feedback are just some of the factors that have been taken into account to select the best angle grinders. We analyzed most of the top angle grinders to present you with this comprehensive list of the best angle grinders on the market. The angle grinder comparison chart in this article will allow you compare the top angle grinders, quickly and easily.

1.Dewalt D28402K  4-1/2 inch Angle Grinder Review
The Dewalt D28402K is one of the most popular angle grinders on the market today. This is due to the excellent build quality, durability and value for money. This angle grinder received outstanding reviews from consumers on various consumer forums. The Dewalt features a 10 amp motor that produces up to 10,000 rpm for faster and more effective cutting. The body is ergonomically designed and feels good in hand – great for working long periods of time. Wheel changes are quick and relatively effortless. This model has been one of the best selling grinders over the past few years.
Key Features
1.6hp, 10n Amp motor that produces 11,000 rpm.
Dewalt dust collection system for longer tool life.
Three year warrany and 90 day money back guarantee.
Pros: Excellent build quality and value for money. Full backup from Dewalt.
Cons: Switch could be better designed.
Our Rating: 9.5/10
2. Makita 9557PBX1 4-1/2 Inch Angle Grinder Review
Makita is known for producing good quality power tools and this product from them is no different. Makita is aiming to provide unbeatable value for money with this angle grinder. It sells at a lower price than most of its competitors, but still ranks right up there with the best when it comes to build quality. The Makita 9557 features a very capable 7.5 amp motor to get the job done. At only 4.5 lbs, this is one of the lightest and compact angle grinders in this class. The maximum rpm under no load conditions is 10,000. The extra large paddle switch makes it easy to operate this grinder. This is a very good angle grinder at a very good price.
Full Review & Price
3. Makita BGA 452Z Cordless Angle Grinder Review
The Makita BGA 452Z is the only cordless angle grinder in our reviews. This compact tool from Makita Has a range of features that make cordless grinding and cutting a pleasurable experience for the operator. The BGA 452Z features a Makita-built high torque motor that delivers 10,000 rpm. This angle grinder is powered by 18 Volt LXT Lithium-Ion batteries. The complete tool (including battery) is only 12.5 inches long and weighs 5.3 lbs. This makes handling the tool quite easy. A built-in LED circuit protects the motor against over-loading, qite handy when taking on bigger grinding projects. Definitely one of my favorite angle grinders.
Full Review & Price
4. Metabo W8-115 4-1/2 Inch Angle Grinder
The Metabo W8-115 features a new ergonomic design that makes handling much easier than with previous models. The new sliding on/off switch is a huge improvement on the old version. This model features Metabo's Vibra-Tech technology in the handle for less vibration during use. The build quality of the Metabo is second to none and if looked after this tool will last for years to come. There are newer models available if you feel that the W8 is a bit outdated for your taste. The quality and durability of this model is the reason why it is still featured in our reviews. The W9-115 is the new version of this angle grinder.
Full Review & Price
5. Porter Cable PC60TAG 4.5 Inch Angle Grinder
The Porter Cable is currently one of the best selling angle grinders on the market. This is due to the excellent value for money.  This grinder features a 6 amp motor that operates at 11,000 rpm, sufficient for most grinding applications. A spindle lock and rapid release guard makes wheel changes and guard removal quick and easy. The Porter Cable PC60TAG weighs only 4.1 lbs. This makes it one of the lightest grinders in its class and very easy to use by anyone. The PC60TAG received excellent ratings on consumer feedback platforms. This is a good indication that most buyers are happy with their purchase. This is a very capable angle grinder at a very low price.
6. Dewalt DWE402 4.5 Inch Angle Grinder
The DWE402 is a newer version of the D28402 angle grinder. This model kept a lot of the features of the previous model, but improvements were made in a few vital areas. The DWE features the next generation AC/DC, 11 amp motor, which still delivers 11,000 rmp for effective cutting and grinding. A massive improvement in this model is the brush size. This model features oversize brushes that will last two times longer than those on the previous model. This will definitely cut operating cost in the long run. This angle grinder has a consumer rating of 4.8! This is the best consumer rating in the small grinder class. Ideal for the professional or serious DIYer.
7. Bosch 1375A 4.5 Inch Angle Grinder
Bosch is known for producing quality power tools, and this angle grinder is no exception. The Bosch 1375A is a durable and powerful product from the Bosch factory. This model features a 6 amp motor that delivers 11,000 rpm under no-load conditions. The maximum power output of the motor is 1 Hp. The service minder brush system stops the tool from operating when maintenance is required.
8. Ryobi P421 18 Volt One+ Angle Grinder
The Ryobi P421 is one of the latest editions to the One + family. This is The Ryobi system that allow all their cordless power tools to run on the same battery and charger. Very handy if you have other Ryobi One + power tools. This angle grinder is designed for the DIyer or home owner looking for good value for money power tools that wont break the bank. The P421 features an 18 Volt motor that delivers 6,500 rpm. The grip design is innovative and feels very comfortable in hand.
9. Black & Decker BDEG400 Angle Grinder
The Black & Decker is another angle grinder that is made for the DIY market. The low selling price makes this model attractive to those looking for a cheap angle grinder. This grinder features a 6 amp motor that operates at 10,000 rmp – sufficient for all those DIY tasks. Included in the box is one 4/5 inch angle grinder, one metal grinding wheel and wrench for wheel changing. This angle grinder is not the most powerful in it's class but is still a good choice for the home owner or DIYer that is looking for a cheap product that will be used occasionally. The Black & Decker BDEG400 weighs in at 4.8 lbs, making it light and easy to use. This tool comes with a two year limited warranty.
Angle Grinder Price Comparison Chart
| Angle Grinder | Our Rating | Price |
| --- | --- | --- |
| Dewalt D28402 | 8/10 | $$ |
| Makita 9557PBX | 9/10 | $$ |
| Metabo W8-115 | 8/10 | $$$ |
| Porter Cable PC60TAG | 8/10 | $ |
| Dewalt DWE402 | 9.5/10 | $$ |
| Bosch 1375A | 8/10 | $ |
| Ryobi P421 | 7/10 | $ |
| Black & Decker BDEG400 | 7/10 | $ |
| $ = under $50 | $$ = $50-$100 | |
How to choose the best angle grinder from the angle grinder reviews
There are hundreds of different makes and models of angle grinders on the market today. Obviously you want a top quality tool at the best possible price. However, before you take the plunge and buy the shiniest one out there, you would want to make sure that the angle grinder you buy suits your needs. How you use it, where you use it and what you use it for plays a huge role in choosing the right grinder which will suit you best.
There are three main categories of grinders the DIY enthusiast or professional can choose from. Your first step in buying a grinder is to determine what category suits you best.
Corded electric grindersThis is the most powerful of the three categories and also the most popular. Most DIYers have electricity outlets where they are working and find that the corded angle grinder is the best choice for them. This grinder can be used for long periods of time without the fear of running down the batteries.
Cordless grindersIf you want a bit more versatility from your grinder, this may be the tool for you. The cordless grinder is battery powered and not as powerful as the corded grinder. This is a small sacrifice to make when it enables you to work this tool just about anywhere. Whether you want to use it on a new jobsite with no power outlets or just at the bottom of the garden where your extension cord can't reach, the freedom a cordless grinder provides is great.
Pneumatic grindersThese grinders are powered by compressed air and and can be very powerful. The pneumatic grinder appeals to those DIYers that have an air compressor and use a wide range of pneumatic tools. If you use other pneumatic tools, this type of grinder might suit your needs.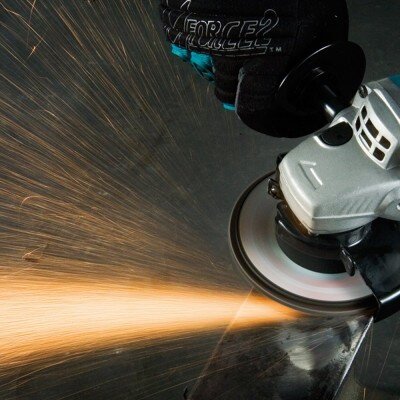 Now that you have chosen what type of angle grinder you need, there are a few things to consider when choosing  which model will make it into your toolbox.
Corded  Angle Grinder
What to look for:
Power: This is the most important factor when choosing an angle grinder. Make sure you choose a grinder that has at least a 7amp rating. Anything less and you will be struggling to power through those tougher jobs.
Speed: Enough speed is necessary to for cutting work. Look for a grinder that can deliver at least 10,000rpm.
Durability: When you spend your money on a power tool, you want it to last a long time. Stick to the better known brands that you know and trust. The big brands spend a lot of money on research and development thus bringing you better, longer lasting equipment. The better known brands back their products with good warranties that give you the confidence to use the product to its full potential.
Cordless Grinders
What to look for:
Weight: The main reason you are choosing a cordless grinder is probably because you want a more versatile and portable tool. Picking a heavy cordless grinder defeats the objective. Choose one that weighs less than seven pounds.
Power source: Lithium-Ion is the latest and best in battery technology. We recommend choosing a grinder that is powered by 18 Volt Li-Ion batteries.
Speed: As with corded grinders, speed plays a big role in the efficiency of a cordless grinder. Look for a grinder that can deliver 10,000rpm.
Added features: Different makes have different features. Compare the features and choose the one with the most features you like.
Warranty: Never buy a power tool without a warranty!
Pneumatic Grinders
What to look for:
This is a category that has hundreds of different shapes and sizes of grinders. When you have determined what type of pneumatic grinder you want, choose one that is ergonomically designed and light in weight. This will reduce fatigue when working for extended periods of time.
Choose a brand that you know and trust. This way you know what quality to expect from the tool and that the brand will back it up if something goes wrong.
Here is a video by Mitchell Dillman on how to use an angle grinder:
By taking all the tips in this article into consideration when you shop for an angle grinder, you have the best chance of finding the tool that suits your needs and will provide top quality work for years to come! Read our angle grinder reviews to find your angle grinder.
Back to  Home Page