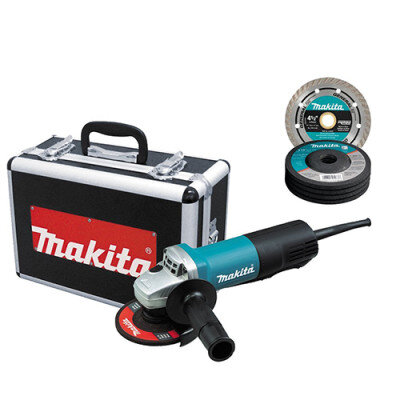 See Price List At Bottom Of Page
The Makita grinder is a well-built, compact tool with ample power. It features a 7.5 amp motor with thicker, more closely wound coil wires to reduce heat and energy loss. Weighing in at only 4.5 pounds, it is light and easy to use. The labyrinth construction seals the motor and bearings from dust. This will ensure that the grinder has a longer lifespan.
Capable of grinding, cutting and sharpening, the Makita 9557PBX1 can be used on stone, metal, granite, brick and concrete among other things. The motor runs smoothly and is not that loud. It is designed with an easy-grip handle that measures 2.5 inches in diameter to reduce hand fatigue.
This grinder comes with a handy aluminium carry case, five grinding wheels and a diamond cut-off wheel that can be used on concrete.
Click Here to get free shipping and up to 55% off at Amazon.
Product Features and Specifications
Weight: 4.5 pounds
Motor: 7.5 amp, 120 Volts
AC/DC capability
Locking on/off switch
Adjustable side handle
Lightweight, easy to use
5 cutting discs included plus diamond cutting disc
Aluminium carry case
1 year warranty
The Reviews
The Makita 9557PBX1 received excellent reviews from consumers. Amazon customers gave this grinder an average rating of 4.7 stars out of a possible 5 stars. Most customers are very happy with their purchase. Users agreed that this grinder is of good quality and great value for money.
One customer said that he uses the Makita for very demanding granite cutting work and that this grinder is a work horse that hasn't let him down yet.
The aluminium carry case is an added bonus for the user. Another customer said: "I was surprised at the power and the ease of handling  the first time I used it. The fact that it comes with 4 grinder discs, one diamond disc, handle and excellent case is great value for the price."
Verdict
Good quality. Great value for money.
Back to  Angle Grinder Reviews