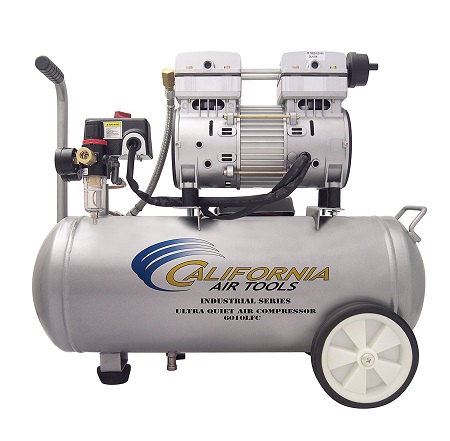 The California Air Tools 6010 LFC was designed to be the quietest air compressor in its class. Producing a noise level of only 60db, it certainly achieved that. Standing next to this compressor, you won't believe how quiet it is. This is the quietest compressor we have ever tested. While this machine is running at full speed it is possible to have a normal conversation whilst standing next to it.
California air tools got a lot of things right with this compressor. The team at California addressed and solved a lot of problems that consumers had with compressors in general. After solving the noise issue, they tackled the weight problem and produced this model that weighs only 49lbs. One of the lightest compressors over the 6 Gallon mark. This makes it very portable and easy to move around, it doesn't take much effort to pick it up.
The compressor motor deliver a peak of 2.0Hp and produce 125psi. The air flow capacity is 4.0 CFM at 40psi, which will power most air tools with ease. The motor runs at only 1680 RPM, creating less wear. The CAT-6010 uses an oil free pump that is virtually maintenance free and very durable.
This compressor is absolutely great when working in your garage in the evening or any place where noise is a major issue. You won't have to switch this compressor off when the kids go to bed.
To get the best deal See Price on Amazon
Product Features And Specifications:
Weight: 49lbs

Power: 1.0Hp running/ 2.0Hp peak

Max Pressure: 125psi

Tank size: 6.0 Gallon

Air flow capacity: 4.0 SCFM

Noise level: 60db

Electric powered

Oil free pump design

Voltage: 120Volt

1 Year warranty
The Reviews:
When we researched consumer reviews on the California Air Tools 6010, we found that it received excellent reviews and ratings on all the major consumer forums. On Amazon, customers rated this compressor at an average of 4.6 stars out of a possible 5 stars. This is one of the highest ratings in the air compressor category.
The main talking point among consumers seems to be the noise, or lack of it! Most users are astonished by how quiet this unit runs. There are a few consumers that would like to see it have a bit more power, but overall the users are happy with the power and air supply. A carpenter said in his review that this compressor keeps up beautifully while he uses his air tools. Heavy nailer work is no problem for the CAT-6010.
Another customer said: "Now I can check my tire pressure in the morning without waking the neighbours and giving myself compressor noise shock syndrome! The most quiet compressor I've ever owned. My compressor took 2 minutes and 45 seconds to hit maximum pressure without a hose on."
The reviews show that most consumers are very pleased with their purchase and would recommend this compressor to others.
The Verdict:
One of the best portable air compressors on the market today. Surprisingly quiet and enough power for the home garage. Another quality product from CAT. Read our page on air compressor reviews and consumer reports to find more reviews of air compressors.