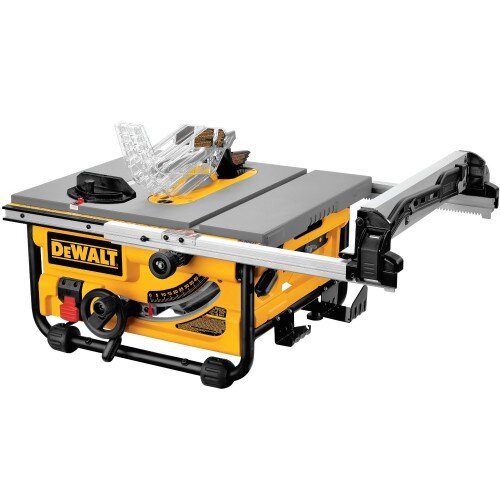 The Dewalt DW 745 is the top selling table saw at the moment. This saw is ideal for someone looking for a cheaper saw but still require good quality. The DW 745 is one of the most compact and portable 10 inch units available. Weighing in at only 45 lbs, this saw can easily be carried from site to site. The Dewalt offers a very respectable 20 inches rip capacity to tackle most cutting applications on the jobsite.
The 15 Amp, high torque motor delivers enough power to cut through most hardwoods. The maximum speed is 3,850 rpm not loaded. Adjustment of the fence rail system is fast and smooth. Just like the bigger saws, this model features Dewalt's Site-Pro modular guarding system, making it easier and safer to operate.
To get Free Shipping: See Price on Amazon
Product Features and Specifications
Motor: 15 Amp, high torque
Rip Capacity: 20 Inch
Fence System: Rack and pinion
Dust Collection: 2-1/2 Inch dust port
Weight: 45 lbs
Cutting depth: 3-1/8 inch
Tool-free adjustment with Site-Pro modular guarding system
Light weight
Three year limited warranty
What's in the Box
10 Inch jobsite table saw
10 Inch 24 Tooth Carbide blades
Miter gauge
Push stick
Blade guard
The Reviews
This saw is very popular and well liked. When researching reviews on the Dewalt it becomes clear why this is the top selling portable table saw. Consumers rate the value for money, build quality and portability very high. Customers on Amazon rated this saw an average of 4.7 stars out of a possible 5 stars. A lot of satisfied customers!
The price of the Dewalt DW 745 is a plus for most consumers that bought this product.
The Verdict
The top selling portable table saw for good reason. Excellent value for money.
Back To  Table Saw Reviews