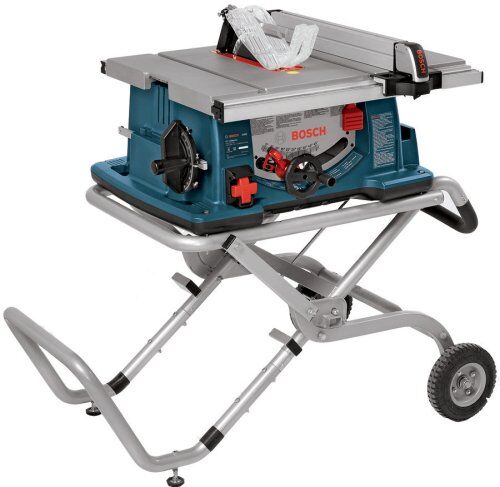 The Bosch 4100-09 is one of the most sophisticated table saws on the market today. This high performance saw has a fresh new design and innovative features. New innovations include the modular smart guard system and the SquareLock Rip Fence system. The smart guard system is designed to provide better visibility of the cut and more protection to the operator. The SquareLock Rip Fence system works really well and provides a true cut every time.
The build quality of this saw is of a very high standard, like most Bosch products. The 15Amp motor delivers 4 Hp at 3,650 rpm, enough to easily cut through hardwood. Blade speed is kept constant under load by the Constant Response electronics system. Another new innovation is the Gravity-Rise stand which makes set up and take down much faster.
To get Free Shipping: See Price on Amazon
Product Features and Specifications
Motor: 15 Amp – 4Hp
Rip Capacity: 25 Inch
Fence System: SquareLock
Table size: 29 inch x 21.5 inch
Weight: 99 lbs
Modular smart guard for added safety
Gravity rise stand
Constant response electronics and soft start
1 Year unconditional warranty
What's in the Box
Bosch 10-inch table saw
Gravity-rise stand with pneumatic wheels
SquareLock Rip Fence
T-Slot miter gauge
Smart Guard
The Reviews
The Bosch 4100-09 received excellent reviews on all the consumer feedback platforms researched. Customers on Amazon rated this table saw 4.5 stars out of a possible 5 stars. Consumers rated the safety features higher than any other portable table saw. Build quality and ease of use were mentioned by users as the standout features.
Some customers noted that this is probably the most accurate portable table saw.
Verdict
Top quality, stacked with new innovation.
Back to  Table Saw Reviews