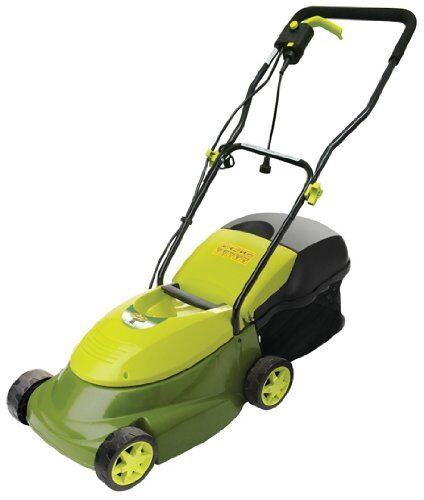 The Sun Joe MJ401E is a compact lawn mower designed for maintaining smaller lawns. Weighing in at only 28 lbs, this mower is very light and easy to handle. The cutting with of the Sun Joe is 14-inches, making it more suitable for the smaller garden. This mower is fitted with a hard-top grass catching bag that has a capacity of 10.6 Gallon.
The 12 Amp Sun Joe motor provides ample power to the 14-inch cutting deck to produce a neat cut. The cutting height can be adjusted to three different positions from 0.8 inches to 2.4 inches. This mower is ETL-approved and features a start up safety switch to prevent accidents from happening. The Sun Joe is a very capable little mower at a good price.
Click Here to get Free shipping and up to 21% off from Amazon.
Product Features and Specifications:
Power: Corded electric

Motor: 12-Amp Sun Joe

Weight: 28 lbs

Cutting width: 14 Inches

Height adjustment: 3 positions (0.8 inches-2.4 Inches)

Wheels: Front-5.5 inches; rear-5.5 inches

Grass box capacity: 10.6 Gallons

Safety switch to prevent accidental start up

2 Year warranty
The Reviews:
The Sun Joe received good reviews from consumers that bought this lawn mower. Customers on Amazon rated this mower at an average of 4.2 stars out of a possible 5 stars. Most consumers stated that they were satisfied with their purchase and would recommend it to others.
Consumers are impressed with the power of the Sun Joe and most agree that this is the perfect mower for smaller lawns. Good value for money is mentioned frequently in the reviews.
Some consumers feel that the 10.6 Gallon grass box could have been a bit bigger.
Here are some comments from consumers:
"Great mower, great price."
"I like to think of this as the Mini-Cooper of lawn mowers."
"I am really surprised at the energy of this little guy!"
The Verdict:
Good value for money, ideal for the smaller lawn.
Back to  Lawn Mower Reviews