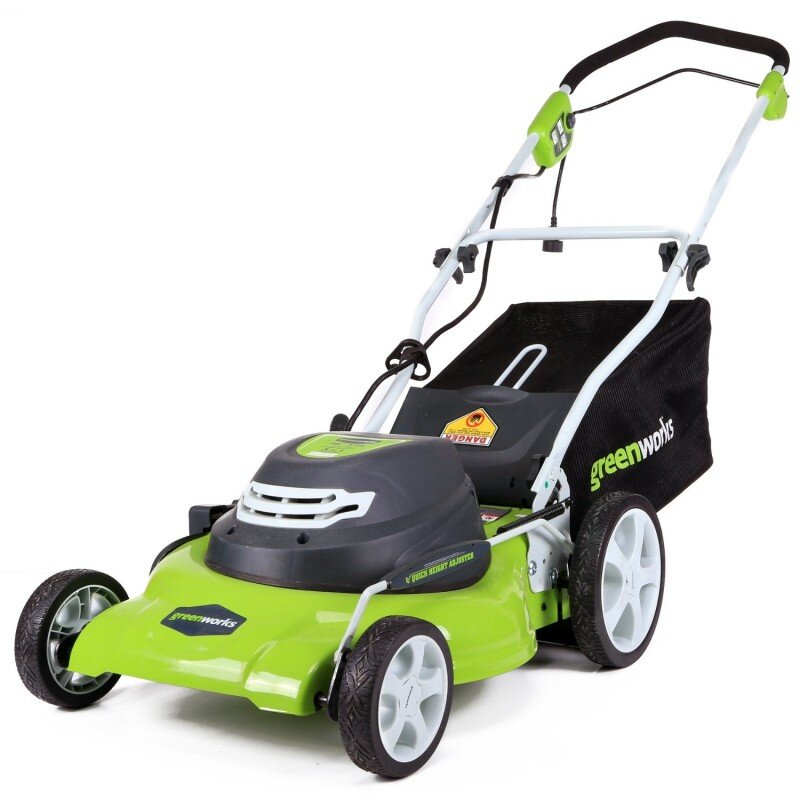 The GreenWorks 25022 is a versatile, light weight lawn mower with plenty of power to get the job done. This 3-in-one mower gives you the choice of rear bagging, mulching or side discharging. The light weight design of the GreenWorks 25022 makes it very easy to use and turn around flower beds and trees. The 12-Amp motor runs smooth and quiet, making this mower a pleasure to use.
The 7-position height adjustment provides you with a cutting height from 1.5 inch to 3.75 inch. The height is easily adjusted by a single lever that raises and lowers the cutting deck evenly. This mower has a 20-Inch cutting deck that provides a very neat cut. The GreenWorks 25022 is one of the best selling lawn mowers on the market today.
Click Here to get Free shipping and up to 29% off from Amazon.
Product Features and Specifications:
Power: Corded electric

Motor: 12 Amp

Weight: 56 lbs

Cutting Width: 20 Inches

Height Adjustment: 7 positions (1.5 Inch-3.75Inch)

3-in-1 Feature for grass clippings (mulching, rear bagging, side discharge)

10 inch rear wheels and 7 inch front wheels

Folds down for compact storage

4 Year warranty
The Reviews:
The GreenWorks 25022 lawn mower received very good reviews on all the consumer feedback platforms we researched. Customers on Amazon rated this lawn mower an average of 4.3 stars out of a possible 5 stars.
This mower impressed consumers with its power and easy handling. The light weight of the unit makes it easy for anyone to manoeuvre this mower around the garden. Consumers note that all the parts on this mower is of good quality and the fact that the cutting bed is made of steel makes it better than most mowers in the same class.
Consumers are extremely happy with the quality of cut the Greenworks produce. Here are some consumer comments:
"Love this mower! Powerful but quiet!"
"Easy to use, a lot more powerful than what I expected."
"Excellent electric mower!"
The Verdict:
Good quality lawn mower, one of the best in its class.
Back to  Lawn mower Reviews