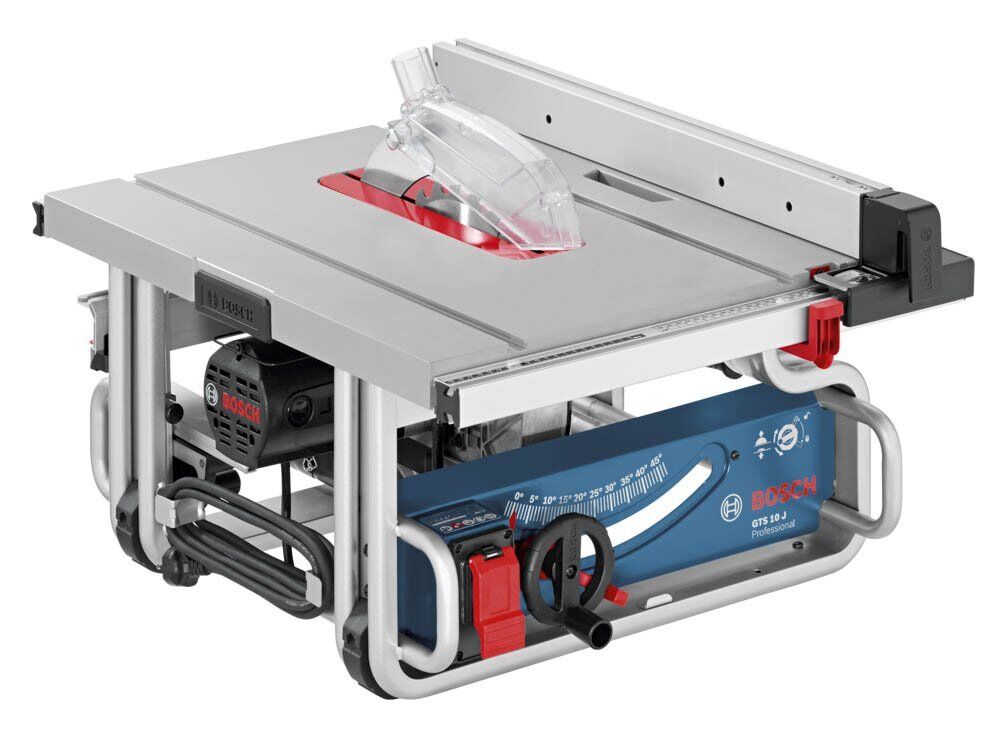 The Bosch GTS 1031 is designed to be truly portable and compact. Weighing in at only 52 lbs, this saw is easy to pick up and load onto a vehicle. The GTS 1031 is powered by a 4 Hp, 15 Amp motor that produces 5,000 rpm. The motor provides enough power to produce clean and easy cutting. This saw features the Bosch Square-Lock fence system which is one of the best systems for providing true cuts. The fence system works well and adjusts easily.
Fully extended the Bosch has a rip capacity of 18 inches. The table top measures 22.5 inches x 20 inches. The build quality is of a high standard, making this saw durable and good value for money.
To get Free Shipping: See Price on Amazon
Product Features and Specifications
Motor: 15 Amp, 4 Hp
Rip Capacity: 18 inches
Fence System: Square-Lock
Dust port: Yes
Blade Size: 10 Inch
Table Dimensions: 22.5 inches x 20 inches
Weight: 52 lbs
Smart Guard System
1 Year warranty
What's in the Box
10 inch table saw
Rip fence
Miter gauge
Carbide saw blade
Smart guard system
Push stick and wrenches
The Reviews
The Bosch GTS 1031 table saw received good reviews on all the consumer feedback platforms researched. This saw seems to be a favorite with hobbyists and DIYers. Customers on Amazon rated this table saw 4.2 stars out of a possible 5 stars.
Consumers love the portability of the Bosch 1031 and rate the build quality very high. Easy adjustment and accuracy are two features mentioned by the majority of consumers.
The Verdict
Good quality, compact table saw. Ideal for hobbyists and DIYers.
Back To  Table Saw Reviews