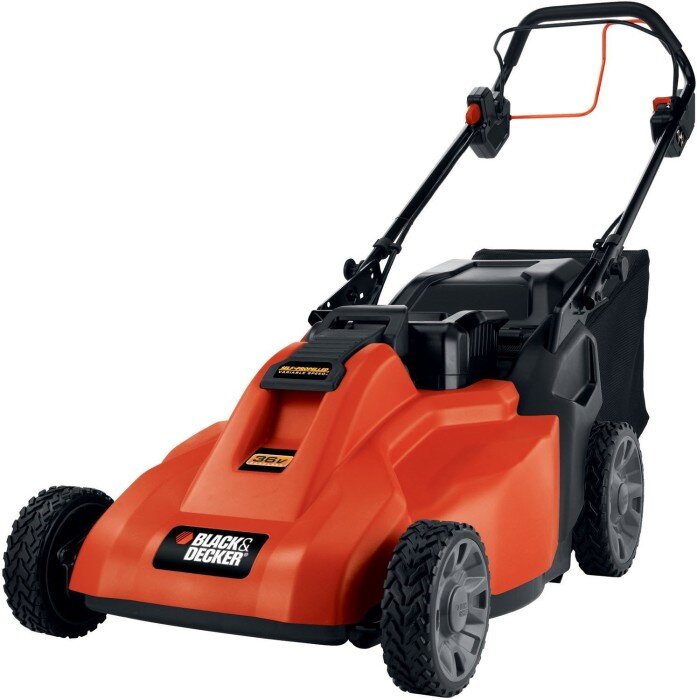 Cordless lawn mowers have evolved a lot in the last few years and the latest models are quickly becoming a favourite with home owners. Black & Decker have introduced loads of this technology in its latest lawn mower range. All the new features make this mower very user friendly and more durable then previous models.
The Black & Decker SPCM1936 is a 36 Volt, self propelled cordless lawn mower. This mower is powered by a 36 Volt battery that can be removed to be charged and stored. When fully charged, the battery gives you enough running time to cut up to 1/3 acre. The SPCM1936 is rear wheel driven, making it easy to turn and no problem to go up inclines. At 92 lbs, this mower is heavier than most but the self-propel system more than makes up for the extra weight. The speed can be adjusted to suit your cutting pace.
The option to switch between three different ways to discharge the clippings with the push of a button is a great feature. Height adjustment is easy and hassle free.
Click Here to get Free shipping and up to 25% off from Amazon.
Product Features and Specifications:
Power: 36 Volt Battery powered

Cutting width: 19 Inches

Weight: 92 lbs

Height adjustment: 1 ½ inches to 3 ½ inches

Self-Propelled motor (Variable speed)

Removable battery

3-in-1 Discharge system

Quiet operation

Light weight polymer cutting deck

2 Year warranty
The Reviews:
When we researched consumer reviews for the Black & Decker SPCM 1936 cordless lawn mower, we found a lot of good reviews that indicate a lot of happy customers. On Amazon, customers rated this mower an average of 4 stars out of a possible 5 stars.
Most consumers commented on how easy this mower is to use and how quiet it runs. Cutting quality impressed customers that bought this product. According to consumer feedback, the battery charge lasts between 45 to 55 minutes.
Here are some consumer comments:
"Works wonderfully!"
"Black & Decker perfected the cordless lawn mower."
"Ergonomically designed, quiet and extremely easy to use."
The Verdict:
Good mower for the average-sized lawn.
Back to  Lawn Mower Reviews