Our pressure washer reviews will help you find the best pressure washer for your specific needs. Whether you are looking for a pressure washer for home use or for your workshop, the reviews on this page will help you with information to make the right decision. On this page we list the best electric pressure washer and the best gas pressure washer. The article below the pressure washer reviews can help you to determine what type of pressure washer will suit you best.

Our Top 10 Pressure Washer Reviews Selected For You:
1. AR Blue Clean AR383 1900PSI Pressure Washer: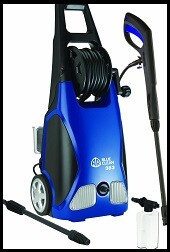 The AR383 is the best selling pressure washer on the market today, and when working with it you can see why. This machine is compact, powerful and will tackle any job around the home with ease. Received excellent reviews.  Most home owners find that the AR Blue Clean is perfect for home use.
---
2. Sun Joe SPX 3000 2030PSI Pressure washer: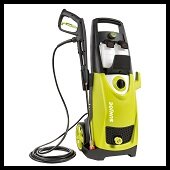 The Sun Joe SPX 3000 is the most powerful pressure washer in its class. This machine packs a huge punch and has enough power to get rid of the toughest stains on your driveway. This unit has everything the home owner needs. The Sun Joe is very popular with DIYers due to the ease of use and good price.
---
3. Generac 6596 2800PSI Pressure Washer: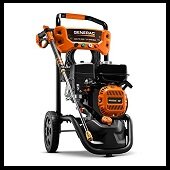 The Generac 6596 is a top quality, gas powered pressure washer. Producing 2800PSI, it has more than enough power to meet all the demands of the home owner or DIYer. The build quality is very good like all Generac products. This is our pick for best gas pressure washer for home use.
---
4. Karcher K5.540 X-Series Pressure Washer: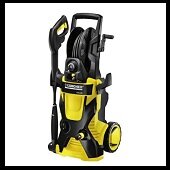 The Karcher is a handy Pressure washer for cleaning around the home. This model has lots of new technology to make your cleaning experience easier and more pleasurable. The DirtBlaster wand gets rid of tougher grime. Karcher remains to be on of the most popular brands in this industry.
---
5. Campbell Hausfeld PW1825 Pressure Washer: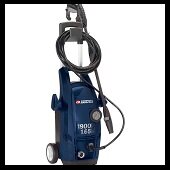 The Cambell Hausfeld PW1825 is a good entry level pressure washer. This machine produces 1800PSI which is enough to take care of the general cleaning tasks around the home. Fitted with a 1 Litre detergent tank for tougher jobs. The Campbell Hausfeld received good reviews from consumers.
---
6. Simpson MSH 3125-S Gas Pressure washer: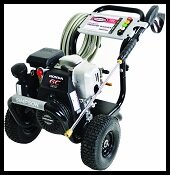 The Simpson gas powered pressure washer is the best selling gas pressure washer for home use at the moment. This machine is powered by a Honda GC 190 OHC motor that produces plenty power.The Simpson is packed with features like maintenance-free OEM and power boost technology.
Check Price
---
7. Ivation 2200psi Electric Pressure Washer: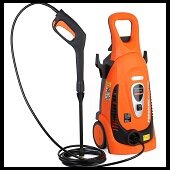 The Ivation pressure washer is a new addition to the pressure washer scene, but quickly becoming one of the top sellers. This machine has 5 inter-changeable nozzles to wash different surfaces. Features include a total stop system, optional self suction and soap dispenser. The Ivation is quick to set up and very easy to use.
Check Price
---
8. AR Blue Clean AR 390 SS Electric Pressure Washer: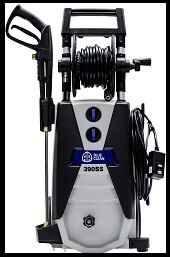 We included another washer from AR Blue Clean as this is the new model from their factory. We have no doubt that this model will be just as popular as the AR 383. The psi rating on the 390 is 2000 compared to the 1900 of the 383. Most of the other features remain the same as the previous model. Good reviews from consumers so far.
Check Price
---
9. GoPlus Electric Pressure Washer: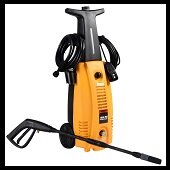 The GoPlus is another entry level pressure washer and may be a good choice for someone looking for a cheaper option. This washer operates at 1800 psi, which is enough to tackle most household tasks. The GoPlus features a built-in detergent dispenser and water flow is rated at 1.6 gallons per minute. Good choice for tight budgets.
Check Price
---
10. GreenWorks GW 1950 Electric Pressure Washer: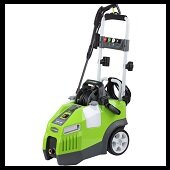 The GreenWorks 1950 is a powerful washer in a small package. This compact machine operates at a maximum 1950 psi. This pressure washer features dual built-in soap tanks, three different nozzles and low pressure foam sprayer included. A 25 ft high pressure hose and 35 ft electric cable included, allowing you to work up to 60 ft from the power outlet.
Check Price
---
Best Electric Pressure Washer: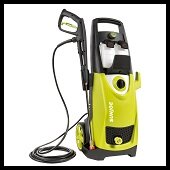 We selected the best electric pressure washer keeping in mind that this article is aimed at the home owner and DIYer. Our panel decided to award the first place to two pressure washers. The AR Blue Clean and the Sun Joe tied for first place in this category. Both these products provide excellent value for money and are very easy to use. Special mention goes to the Karcher that narrowly missed out. All three these pressure washers are perfect for home use.
Best Gas Pressure Washer: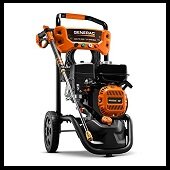 Our experts awarded the top spot in this category to the Generac 6596 gas pressure washer. The Genrac produces 2800 psi, more than enough to take on the toughest cleaning jobs at home. Genrac delivers well-built pressure washers with a good track record for durability. The second spot was awarded to the Simpson MSH 3125-S. This pressure washer is fast becoming one of the favorite gas pressure washers.
Pressure Washer Buyers Guide:
This pressure washer buyers guide was compiled by our experts to help you find the best pressure washer for your specific needs. The products in this guide is aimed at the home owner or DIYer as was rated keeping that in mind. For the home owner, value for money tops the list of requirements. We considered factors like ease of use, power, value for money and durability. After rating all the technical data, consumer feedback was researched on each product to determine which pressure washers make it to the Top 10.
Here Is The List Of Our 10 Picks Again:
AR Blue Clean 383 electric pressure washer
Sun Joe SPX 3000 electric pressure washer
Generac 6596 gas pressure washer
Karcher K5-540 electric pressure washer
Campbell Hausfeld PW1825 electric pressure washer
Simpson MSH 3125-S gas pressure washer
Ivation 2200 psi electric pressure washer
AR Blue Clean AR 390 electric pressure washer
GoPlus electric pressure washer
GreenWorks GW1950 electric pressure washer
---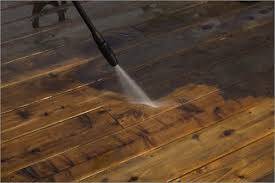 How To Find The Best Pressure Washer In Our Reviews:
When shopping for a new pressure washer, a good starting point is to look at Pressure Washer Reviews online to get an idea of what consumers say and what ratings a product received. A lot of people make the mistake of diving in and just buying the most powerful washer they can find for the budget they have. This is not always the best approach and a bit more consideration should go in to the process of choosing the best pressure washer for you.
Before we look at the factors that will influence your decision when shopping for a pressure washer, you need to know two of the terms that are used to rate pressure washers and what they mean.
PSI : This is the measure of how much pressure the machine generates (pounds per square inch). The average range is 500PSI – 5000PSI.
GPM: This is the water flow and measures how many Gallons of water the machine can deliver in one minute. A good washer will have a GPM higher than 1.2
Application
The first point to consider is what applications you want to use the washer for, is it going to be for home and car cleaning only or will it be used for more heavy duty work like cleaning trucks or farm equipment. You do not need a 5000PSI washer if you are only going to use it for cleaning your car, a machine that is too strong may damage your paint and is using more water than you need. The bigger the washer the more it costs to run so you want to choose a washer that is just right for the type of applications you are going to use it for.
Power Source
The next point to consider is the power source. Pressure washers can be powered by electricity, gas, petrol or diesel. The most popular power source for the DIYer or the home owner is electricity. Electric pressure washers are compact and great to use around the home. One advantage is that it can be used indoors as the electric powered models do not emit any gasses and fumes. Electric models are also much quieter than fuel powered models.
Fuel powered washers are normally more powerful than their electric counterparts and can be used for more heavy duty work. These models emit fumes and is not suitable for indoor use or areas with poor ventilation. Fuel powered models are more mobile than electric models and not limited by cord length. When working on a site with no electricity, having a fuel powered unit is a big plus.
Accessories
Always take into account what accessories the unit you want to purchase come with and make sure it meets your demands. Look at what type of nozzle is included, a lot of pressure washers have an adjustable nozzle which allow you to use it for different applications. Look at the length of the hose and make sure it is long enough to reach where you want to work. Some models have a hose reel that stores the hose, very handy! In our Pressure Washer Reviews, all the accessories are listed to help you find the best pressure washer for you.
Pressure Washer Uses
Below is a list of just a few uses for your pressure washer and how much PSI you need to do the job properly.
Cleaning car – 1200PSI
Cleaning driveway – 2500PSI
Cleaning decks and patios – 1500PSI
Cleaning windows – 1200PSI
Cleaning garden furniture – 1200PSI
Cleaning gutters – 1200PSI
There are thousands of uses for pressure washers at home and on the business premisses. It makes the job of cleaning much easier and quicker. To conclude, let's recap what the main points are you need to look for when buying a pressure washer:
Make sure the washer can be used for the applications you intend to use it for.

Choose a pressure washer with the right kind of power source for your environment.

Choose a unit that is in the right pressure range. If the pressure is too low, it will not be able to perform the tasks required, and too high pressure can do damage and is not cost effective.

Make sure that the accessories meet your demands, for example that the hose is long enough and that is has the right kind of nozzle.
The information in this article will help you analyse the information in our Pressure Washer Reviews and help you to find the best pressure washer for you.
Happy shopping!
Here is a video by Wrekin Pneumatics on using your pressure washer:
How Other Review Sites Rate The Best Pressure Washers:
Bestreviews.com: The guys at Bestreviews awarded the top spot to the Simpson MSH 3125-S. This pressure washer made our top 10 as well and is fast becoming a favorite with home owners. They chose the Sun Joe SPX 3000 as the best value for money buy.
PressureWashr.com: Pressurewashr awarded the price for best electric pressure washer to the AR Blue Clean AR 383. No arguments there as we had the same pressure washer at the top of our list. They listed the Generac 6596 as the best gas pressure washer. Once again, the same pressure washer topped our list of gas pressure washers.
Washwisely.com: Washwisely chose the AR Blue Clean as best overall pressure washer. This washer seem to be on top of every buyers guide that we have seen. Surely a sign that it is a very good buy. Best electric pressure washer was awarded to the Sun Joe SPX 3000. Another washer that is near the top of almost every pressure washer reviews list. They chose the Generac 6596 as their pick for best gas pressure washer. Good to see that most of us agree on which pressure washers are the best of the best at the moment.
We hope that our pressure washer reviews will give you all the information you need to find the best pressure washer for your needs.
Back to  Home Page