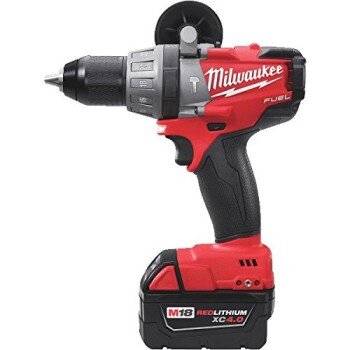 Since its release the Milwaukee M 18 Fuel has gained a huge following. This cordless drill is regarded by many as the best 18 Volt cordless drill on the market due to the excellent drilling performance and the huge amount of torque delivered by this drill. The Milwaukee features a Powerstate brushless motor that delivers 650 in-lbs of torque, and up to 1,850 rpm. The M 18 Fuel came out tops in most of our comparison tests on drilling and driving applications.
Another reason the M 18 is so popular is the longer battery life, the Redlithium battery pack provides more running time per charge than most competitors. This battery pack is known to have a longer lifespan than most other makes. The M 18 Fuel also features the Redlink Plus electronics control system. This is one of the most advanced systems used to control the electronics of a cordless drill and provides protection against overloading, overheating and over-discharge.
The Milwaukee M 18 Fuel features a hammer function for masonry drilling. The hammer produces 31,450 BPM, which makes this drill very efficient when it comes to masonry drilling. The versatility, power and reliability ensures this drill is a favorite with professionals on the job site.
To get Free Shipping: See Price on Amazon
Product Features and Specifications:
Voltage : 18 Volt
Weight : 4.9 lbs
Power : 650 lbs of torque
Max speed: 1,850 rpm
Length : 8.1″
Chuck : 1/2 inch metal ratcheting
Two speed gearbox
Hammer function – 31,450 BPM
Redlink Plus electronics control system
5 Year warranty on tool
2 Year Warranty on battery
The Reviews
The Milwaukee M 18 Fuel received excellent reviews from consumers that bought this product. Customers on Amazon rated this drill an average of 4.5 stars out of a possible 5 stars. This drill received the same high ratings on all the consumer feedback platforms that we researched. A huge number of consumers reported that this is the best cordless drill they have ever used.
Consumers are impressed with the build quality, power and battery life of this drill. The after-sales service is also mentioned as being excellent. All this information suggest that consumers are very happy with the Milwaukee M 18 Fuel.
Here are some consumer comments:
"This is by far the best drill I've ever owned, corded or cordless!"
"Great service and product"
"The 2604 did not fail to impress me"
The Verdict
The Milwaukee M 18 fuel is one of the best 18 Volt cordless drills on the market today. The performance, quality and durability makes up for the higher price tag.
Back to  Cordless Drill Reviews