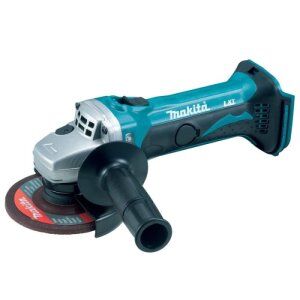 See Price List At Bottom Of Page
The Makita 18 Volt cordless grinder is a compact and versatile tool. The BGA452Z features a Makita-built high-torque motor that delivers 10,000rpm. This grinder will grind, sand and cut through a range of materials like metal, concrete, brick and tiles. It has a built-in electronic control circuit with L.E.D warning lights for overload protection.
The BGA452Z  weighs  just 5.3 pounds (with the battery) and is 12.5 inches long. This compact, lightweight design makes it easier to handle for longer periods of time. It uses the latest battery technology in Makita's 18V LXT lithium-Ion batteries. This is the lightest and most powerful batteries on the market today.
This cordless grinder is ideal for tile setters, masons, welders, electricians, pipe fitters, plumbers and any general contractor looking for a best-in-class tool.
Click Here to get free shipping and best price from Amazon.
Product Features and Specifications
Weight: 5.3 pounds
Length: 12.5 inches
Max Speed: 10,000rpm
Power Source: 18Volt LXT Lithium-Ion Battery (not included)
Overload protection
Compact and lightweight
Built-in LED illuminates the work area
3 Year warranty
The Reviews
After some research we found that most customers were very happy with the Makita cordless grinder. Customers on Amazon gave it an average rating of 4.1 stars out of a possible 5 stars. Most users were satisfied with the power and complimented the versatility of the Makita cordless.
Some customers noted that it doesn't have the power of a corded grinder but is great for smaller jobs and for working in a lot of different areas where you have to cart it along all day.
One customer said: " If you are going to go battery operated, get Makita. I find it the best."
A summary of the reviews reveal that this is a great tool to have. It does not have the power of a corded grinder but that is something you have to sacrifice for the convenience. Being cordless means you can use it anywhere.
The Verdict
The Makita is a top quality tool. We would not recommend this tool for heavy-duty, repetitive work, but for smaller jobs it is convenient and more than adequate.
Back to  Angle Grinder Reviews