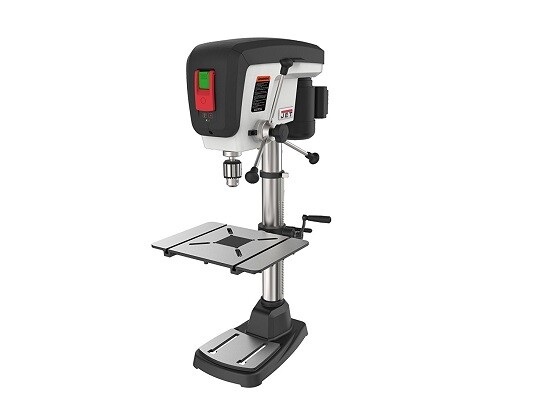 The new range of drill presses from Jet have recently been released. The 716200 is their new 15 inch model that replaces the very popular 354165 model. At first glance it is clear that Jet wanted to improve the aesthetics of the new range, and I think that they have done so very successfully. The new model certainly look the part, but how does it perform?
The answer is: very well! Jet made improvements in the right areas to ensure that the 716200 perform to the hight standard we have come to expect from all Jet drill presses. There are a number of changes that make this model easier to use than the 354165. The one-handed belt tensioning system is one of those changes. The work table on the 716200 is an impressive 12.5 x 17 inches , a massive improvement on the 10 x 13 inches of the previous model.
Another new feature is the Xacta – X laser system, a necessity that the previous model lacked. The Xacta system works pretty well and is easy to use. The 716200 still use the very reliable ¾ Hp motor with 16 spindle speed settings.
The power switch has been redesigned, featuring a new paddle-style off switch. This makes it much easier to stop the drill press in an emergency. A safety key for the power switch is another new safety feature.
Product Features And Specifications
Weight: 145 lbs
Motor: ¾ Hp, 115 Volt
Speed: 16 speed settings (210 rpm – 3,500 rpm)
Chuck size: 5/8 inches
Swing: 15 inches
Table size: 12.5 x 17 inches
Spindle travel: 3 1/8 inches
Quick speed changes with one-handed belt tensioning system
Built-in LED worklight
Xacta laser guiding system to easily identify the center.
Well built, powerful and reliable
The Reviews
Most of the reviews on the Jet 716200 so far indicate that consumers are loving this drill press. Amazon customers rated the Jet 3.9 stars out of 5 stars. This rating will definitely go up in the months to come as there are not many reviews in at this stage, and a couple of negative reviews influencing the overall rating.
The negative reviews are about assembly and shipping issues and not about the drill press itself or the performance of the tool. It must be said that a bit of common sense is needed when assembling this drill press, but anyone should be able to do it.
Our Verdict
This is a top quality drill press from Jet, and definitely one of the best 15 inch drill presses around today. Well built, reliable and strong – everything you want in a drill press.
Back to  Drill Press Reviews