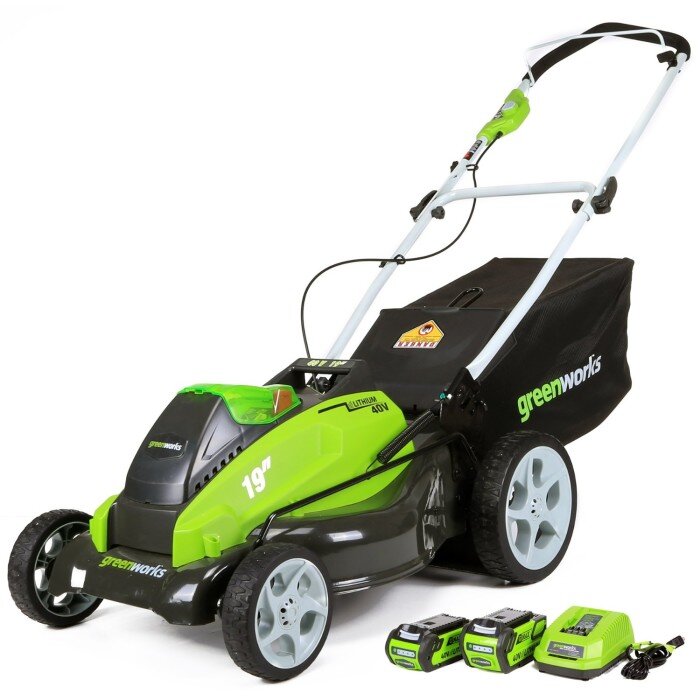 Mowing your lawn doesn't come much easier than the experience the GreenWorks 40V cordless lawn mower provides. This mower was designed for those people looking for a hassle free mowing experience that doesn't leave them feeling that they just finished running a marathon.
The GreenWorks 25223 lawn mower is powered by a 40 Volt Li-Ion battery that features the latest technology in battery design. These batteries last longer than the conventional Ni-Cad batteries, allowing you more run time. A great feature of the GreenWorks G-Max battery system is that the batteries are interchangeable and one battery can be used on a wide range of garden tools.
This mower has enough power to tackle any lawn and if you keep the blade sharp, it will keep producing the perfect cut every time. The GreenWorks 25223 provides you with three options when it comes to grass clippings. You can easily switch between rear bagging, side discharge and mulching. This mower runs smoothly, is quiet and very easy to use. A battery charger and two batteries are included in the box.
Click Here to get Free shipping and 5% off from Amazon.
Product Features and Specifications:
Power: 40 Volt Li-Ion batteries

Weight: 66 lbs

Cutting Width: 19 Inches

Height adjustment: 7 Positions ( 1 ¼ inch to 3 1/8 inch)

Wheels: Rear-10 Inch; Front-7 Inch

Steel cutting deck

3-in-1 discharge system

G-Max interchangeable battery system

Low maintenance and hassle free

Charger and two batteries included

4 Year warranty
The Reviews:
The GreenWorks 25223 Cordless lawn mower received very good reviews from consumers that bought this product. On all the consumer feedback platforms that we researched, we found that most consumers were very pleased with their purchase. Customers on Amazon rated this lawn mower an average of 4.5 stars out of a possible 5 stars.
Consumers love the hassle free operation of the GreenWorks. The fact that this mower comes with two Li-Ion batteries included is a big plus for consumers. This allow them to mow the lawn completely without any down time. There are some users that mentioned that only one battery is often enough to mow the average size lawn. Consumers rated the build quality as very good.
Here are some consumer comments:
"Well pleased with this mower. Did a great job with my lawn. Took 1.5 batteries to get the job done."
"Very quiet and easy to use."
"Powerful cordless lawn mower!"
The Verdict:
Good quality, enough power and hassle free.
GreenWorks 25223 G-Max 40V Cordless Lawn Mower
Back to  Lawn Mower Reviews