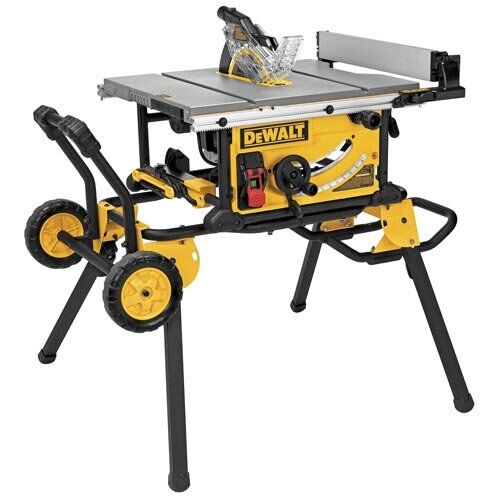 This Dewalt table saw is a huge favorite with professionals and hobbyists. The DWE 7491RS is functional, easy to move around and provides a large rip capacity. The telescopic fence rail system works like a charm and is much sturdier than what it looks. Fully extended it provides a 32.5 inch rip capacity. The legs fold out in seconds to provide a very stable base for this saw. The 15 amp motor provides enough power to cut through hardwoods with ease. The depth of cut is 3-1/8 inch at 90 degrees. The 2-inch dust port works beautifully. Connected to a shop vacuum, it gets rid of all the dust.
We asked a few professionals to list the cons of this saw, but none of them could come up with any. This saw is everything a jobsite table saw should be, and this is why so many woodworkers and professionals prefer it above other models.
To get Free Shipping: See Price on Amazon
Product Features and Specifications:
Motor: 15 Amp
Rip Capacity: 32.5 inch
Fence System: Rack and pinion
Dust collection: Yes(2-inch port)
Depth of cut: 3-1/8 inch at 90 degrees
Table size: 26-1/4 inch x 22 inch
Rolling stand for easy set up and breakdown
On-board storage system
3 Year limited warranty
What's In the Box:
Jobsite table saw
10-inch, 24-tooth carbide blade
Rolling stand
Push stick
Miter gauge
 The Reviews
The Dewalt DWE 7491 RS received excellent reviews from consumers that purchased this saw. Amazon customers gave this Dewalt saw a rating of 4.7 stars out of a possible 5 stars. This is very good, and indicate a high level of customer satisfaction.
Most consumers agree that this saw is very easy to use, cuts precise and is light enough to be truly portable. The build quality is another area where consumers gave this saw very high marks.
 The Verdict
Top quality and performance. Perfect for the jobsite or home shop.
Back To  Table Saw Reviews