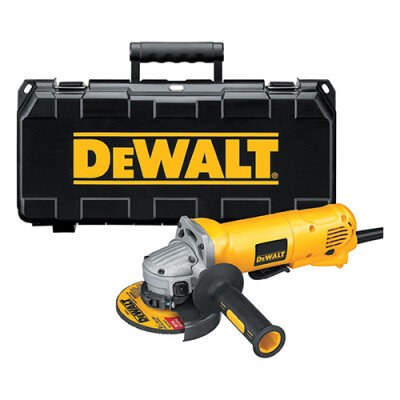 See Price List At Bottom Of Page
This is a great angle grinder from Dewalt. Top quality, powerful and light are just three of the many features that comes to mind. The D28402K has a 1.6-horsepower, 10 amp motor that is designed to deliver 11000 rpm. The jam-pot design improves the gear alignment and allows the grinder's transmission to be smooth and quiet. This grinder features Dewalt's patented dust ejection system which protects the internal parts from dust and other particles. This improves the grinder's durability.
At just 4.6 pounds in weight, this ergonomically designed tool is easy to use for long periods of time. An oversized, spindle-lock button and quick change wheel-release keep the wheel removal tool free. The keyless adjustable guard can be tuned easily and quickly, saving you time. The D28402K kit includes: 4 ½ inch angle grinder, two-position side handle, depressed centre wheel, keyless adjustable guard, wrench and kit box.
Click Here to get free shipping and up to 52% off at Amazon.
Product Features and Specifications
Weight: 4.6 pounds
Motor: 1.6hp, 10 amps
Speed: 11,000 rpm
Voltage: 120 Volts
Dust ejection system for longer tool life.
Adjustable handle location for left-handers or right-handers
Ergonomic, lightweight design that is easy to use
Excellent for grinding and cutting
Three year limited warranty, one year free service, 90-day money back guarantee
The Reviews
When we researched the reviews for the Dewalt 28402K, we found a lot of satisfied customers. Amazon customers that bought this grinder gave it an average rating of 4.7 stars out of a possible 5 stars. This is very good! Most users rate it as a top quality tool that provides great value for money.
Customers like the fact that it is very easy to use and fits perfectly in your hand. The paddle-switch and keyless guard were mentioned for their practicality and ease of use. A lot of customers were surprised by the power this little grinder has.
One customer said: " I needed a new grinder for grinding a concrete patio as my previous one burned out. I decided to go with the Dewalt. It has power to spare and doesn't slow down during grinding like my old one did. It also never overheats like the old one. This is a great addition to my tools."
Verdict
Good quality and durability. A great product from Dewalt!
Back to  Angle Grinder Reviews