When the time for buying gifts comes around, we spend hours or even days trying to find the perfect gift for everyone. It can sometimes seem impossible to find that special gift for certain friends or family members. If he or she is into DIY, this article will make life much easier when searching for gift ideas. We carried out extensive research to find the gifts most wanted by DIYers and listed the top 15 gift ideas in this article.
1.Tool Organizer (Toolbox)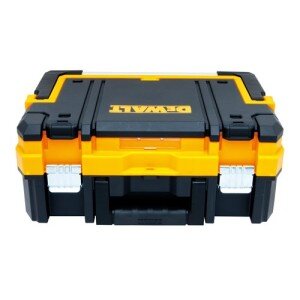 There is nothing more frustrating for a DIYer than having tools scattered all over the workshop or garage. Job satisfaction starts with having your tools neatly stored and easily accessible.  The Dewalt DWST long handle toolbox provides all the storage solutions that the DIYer requires. The flexible platform allows for different combinations to customize the organizer the way you want it. All units can stack on top of each other and are connected by durable side latches.
The Dewalt DWST 17808 Long Handle Toolbox – (See price on Amazon)
---
2. The Home Owner's Tool Kit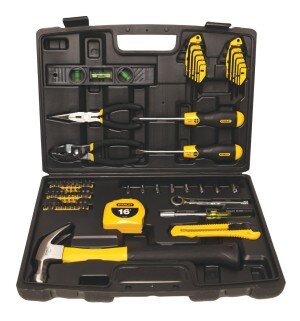 A mixed tool kit is the ideal gift for any DIYer or home owner that doesn't have a lot of tools. These tool kits are well thought out and provide tools that will take care of most diy tasks. The Stanley 94-248 tool kit consists of 65 pieces that include the following: ratchet and socket set, 13 ounce hammer, tape measure, snap-off knife, one long nose and one slip joint pliers, Phillips and flat tip screwdrivers, hex keys, spirit level and spinner handle with 30 bits.
The Stanley 94-248 65 piece tool kit – (See price on Amazon)
---
3. Cordless Drill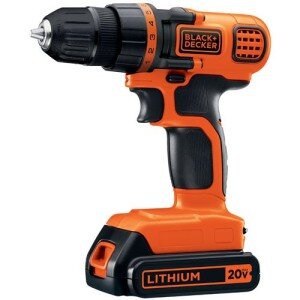 A cordless drill is probably the most wanted and most used tool when it comes to DIY. This handy tool is not just for drilling holes, but can be used for driving screws and sanding applications. Any handyman will agree that if there is one tool they can't go without, it's a cordless drill. The Black & Decker LDX 120 features the latest Lithium-Ion technology which ensures longer operating times and shorter charging times. For reviews and comparisons of the top cordless drills, see our cordless drill reviews page.
The Black & Decker LDX 120C 20-Volt Cordless Drill – (See price on  Amazon)
---
4. Leather tool Holder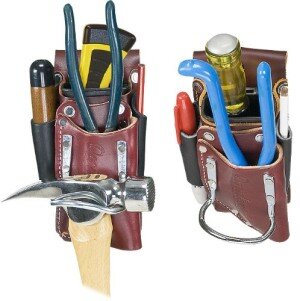 The Occidental leather tool holder is the perfect gift for the family DIYer or handyman. Most handymen prefer to use a tool holder to have the tools they need within easy reach. The Occidental 5520 is made from sturdy American leather and can be worn on any belt up to 3 inches wide. The build quality is top notch, making this a gift that will last for years to come. The Occidental tool holder received excellent reviews from consumers.
The Occidental Leather Tool Holder – (See price on Amazon)
---
5.Laser Level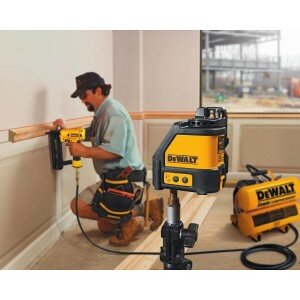 This clever gadget projects bright horizontal and vertical lines for various leveling and layout applications. The Dewalt self leveling laser makes it super easy for the DIYer to achieve perfectly level lines. Whether you are tiling a floor or installing cupboards, this device will keep you on the right track. The Dewalt DW 088K is stacked with features to help you make the job easier.
The Dewalt DW o88K self-leveling cross line laser – (See price on  Amazon)
---
6. Brad Nailer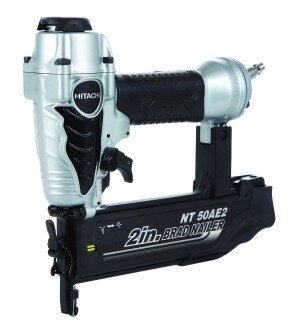 The Hitachi NT50AE2 is ideal for DIY carpentry jobs. This lightweight nailer features a high capacity magazine, exhaust vent and easy depth adjustment. A great feature is the option to select between continuous or intermittent fire. The Hitach nailer is easy to use and allows you to get into tight spots to get the job done. This is a great gift for someone that enjoys taking on carpentry jobs.
The Hitachi NT50AE2 Brad Nailer – (See price on  Amazon)
---
7. Gyroscopic Screwdriver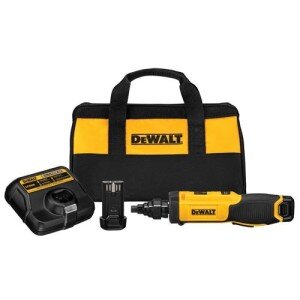 I absolutely love this clever tool from Dewalt! The gyroscopic screwdriver is a cordless electric screwdriver that is motion activated. Twist your wrist to the right and the driver head spins to the right, turn your wrist to the left and the driver head spins to the left. The more you twist your wrist in either direction, the faster the head will spin in that direction. This gives you amazing control while working with this tool and eliminates the need to stop and engage a switch to change direction.
The Dewalt DCF681N2 Gyroscopic Screwdriver – (See price on Amazon)
---
8. Digital Laser Measure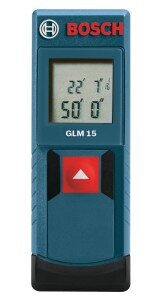 A single click of a button precisely measures distances up to 50 feet. Accurate measuring has never been this easy! Most DIYers find it very annoying to have to call someone to hold the other end of the measuring tape while taking measurements. This handy gadget from Bosch eliminates all the drawbacks of conventional measuring tapes, making the job easier and faster.
The Bosch GLM 15 Compact Laser Measure – (See price on Amazon)
---
9. Bench Top Drill Press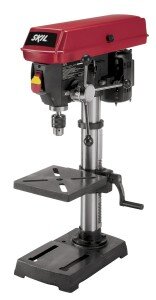 Most woodworkers and handymen will list the drill press as their favorite tool. A drill press can be used for a wide range of applications, from drilling holes to sanding. The main benefit of a drill press is the accuracy it provides when drilling. Most drill presses have an adjustable depth stop that can be set to achieve the perfect depth every time. Read our drill press reviews for more information on drill presses.
The Skil 3320-01 Drill Press – (See price on Amazon)
---
10. Carhartt Bib Overalls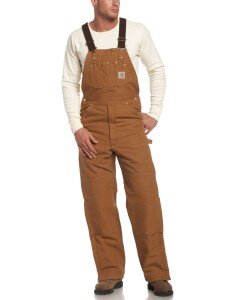 Carhartt is one of the industry leaders when it comes to duck bib overalls. This overall is made of 12-ounce cotton duck. It features a hammer loop and a number of utility pockets.  The Carhartt overalls are excellent for working outdoors and in cool weather.
Carhartt Duck Bib Overalls – (See price on Amazon)
---
11. Orbit Sander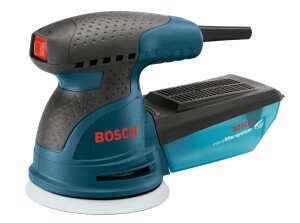 An orbit sander is one of those tools that every DIYer needs. Any project that involves working with wood will require sanding to get a smooth finish. The orbit sander is the ideal tool for all your sanding requirements in the workshop or garage. The Bosch ROS20VSK is a durable and compact sander with detachable dust container. This sander features a variable speed dial that allow you to match the speed with the task at hand.
The Bosch ROS20VSK Orbit Sander – (See price on Amazon)
---
12. Dremel Moto Saw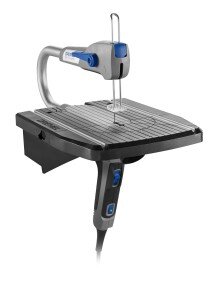 The Dremel moto saw is the ideal tool for precise and detailed cutting. This saw is used for smaller applications such as craft work and cutting plastic and wood. The moto saw can be clamped to the workbench or any table top for stability. The moto saw can function as a scroll saw or as a portable coping saw by removing it from its base. This saw offers variable speed control for optimal cutting performance.
The Dremel Moto Saw – (See price on Amazon)
---
13. Jig Saw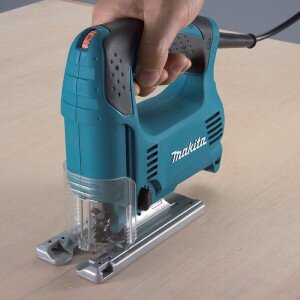 A jig saw is probably one of the first tools any DIYer adds to his toolbox. This handy device can be used for a wide range of cutting applications and often is the "go-to" tool for quick cutting in the workshop. The Makita 4329K jig saw features a powerful 3.9 amp motor that ensures easy cutting. This saw has a host of features to make it as user friendly as possible.
The Makita 4329K Jig Saw – (See price on Amazon)
---
14. Circular Saw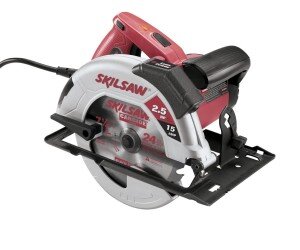 A circular saw is meant to take on the heavy duty cutting in the workshop. The Skil 5680-02 is the latest SKILSAW designed for DIYers. This model is more compact than previous models, but provides more power to make cutting easier. A single beam laser cut line ensures an accurate cut every time. A range of new safety features make this model much safer to operate than previous models.
The Skil 5680-01 Circular Saw – (See price on Amazon)
---
15. Shop-Vac Toolmate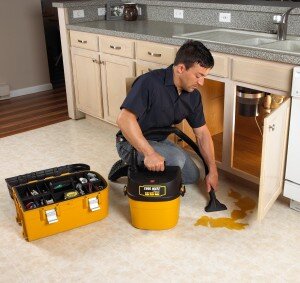 Cleaning up after the job is done is easy with this invention. The Shop-Vac Toolmate is a wet & dry vacuum with a removable toolbox. The wet & dry vacuum is powered by a 2.5 Hp motor and features on-board cord storage and top carry handle. The toolbox has an accessories tray with removable dividers. Handles and latches are made from aluminum.
The Shop-Vac Toolmate – (See price on Amazon)
---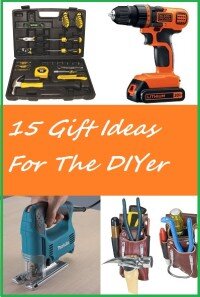 That is our top 15 gift ideas for the DIYer. We certainly hope you find that perfect gift for the DIYer in your life. Happy shopping!
Back to  Home Page